Downtown Revitalization Loan Fund
About the Downtown Revitalization Loan Fund (DRLF)
The Downtown Revitalization Loan Fund is a gap financing support tool to develop residential living and/or commercial spaces within Freeport's Downtown TIF District.  The Greater Freeport Partnership facilitates the DRLF process by connecting applicants with resources and guides them through the loan process.  The program is capitalized by monies committed by the City of Freeport and a partnership with Northwestern Illinois Community Development Corporation (NICDC) member banks.
This loan fund program is not intended to compete with banks, but rather to act as additional resources for businesses that need capital.  When combined with loans from conventional sources, this program funds produce a financial package to allow certain business to open in Freeport.
DRLF Process
1. Interested parties should contact the Development Director at the Greater Freeport Partnership (GFP).
2. Potential applicant and GFP will discuss their proposed project fill out initial application, ascertain if the interested party has the necessary documents (checklist of documents) to meet with a DRLF-participating bank.
a. GFP will advise interested party to meet with City to discuss the project and review potential code issues that might arise.
b. If interested party has documents needed, then GFP will help them set up a meeting with a DRLF-participating bank
c. If interested party does NOT have necessary documents in order, GFP will assist them in finding resources (i.e. Small Business Development Center, etc.) to prepare documents.
3. Interested party will then meet with a participating bank.  If participating bank is willing to sponsor the project, interested party will complete the DRLF application.
4. Downtown Revitalization Loan Fund application will be review by Advisory Loan Review Committee.  Approved applications will then be presented to City Council.
Final approval will be achieved by majority vote from City Council. Personal and business financial information is not shared with the City Council.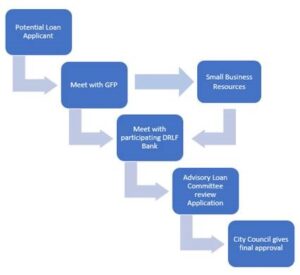 Eligible Uses for DRLF
Site development/infrastructure extension costs.
Architectural, engineering and legal fees.
Construction of new facility or additions to another building and land acquisition costs.
Renovations of existing facilities.
Project must be with the Downtown TIF District as defined by the City of Freeport.  
DRLF Participating Financial Institutions
815-369-4524
815-235-2711
815-297-0407
815-235-4980 ext. 231
815-235-0800
815-987-4777
Guest Columnist: Celebrating Native American Heritage Month
November 30, 2022
The Partnership is honored to commemorate Native American Heritage Month with a guest column from Kim McIver of Quiet Souls in Freeport. Kim is also an Illinois Road Scholar and award-winning Ojibwa author from the White Earth Reservation in northwest Minnesota. We asked Kim a few questions to provide a better understanding of Native culture.  November is Native American Heritage […]
Giving Thanks
November 24, 2022
In this week of Thanksgiving, we thought it would be a good opportunity to reflect on some of the many things we have to be thankful for in Freeport and Stephenson County.   New Business and Business Growth – We have celebrated much success with our business community indicated by 21 ribbon cuttings so far in 2022 and three more scheduled in […]