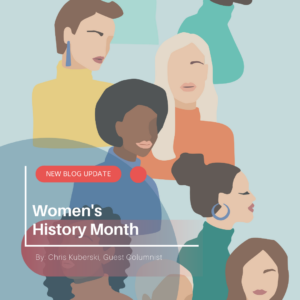 The Greater Freeport Partnership honors the commemoration of Women's History Month with a special feature from Chris Kuberski, President of Highland Community College.
The 2023 theme for Women's History Month — "Celebrating Women Who Tell our Stories" — deeply resonates as I see it happening at Highland Community College, this month and daily.
As an English major and avid young reader, I was personally influenced and touched by many women authors including Louisa May Alcott ("Little Women"), Johanna Spyri ("Heidi"), Maya Angelou ("I know Why the Caged Bird Sings"), Shirley Jackson ("The Lottery"), Sylvia Plath ("The Bell Jar"), and Amy Tan ("The Joy Luck Club"). Each of these women told powerful stories that chronicled the joys, trials, hardships and triumphs of women. As a young, impressionable girl, teenager, and young adult, they taught me through these stories that women have grit, compassion, insight, and influence. Women have the ability to be effective leaders. Whether in a traditional role of mother or a non-traditional role of community college president, women have the ability to positively impact the world.
Highland's March cultural offerings highlight women in our community, as well as stories from history. Join us this Wednesday, March 8 for events celebrating International Women's Day. The morning kicks off at 9:30 a.m. with the International Women's Day Choral Celebration in the Ferguson Fine Arts Center. Several area high schools and Highland students will join with church choirs and community members — comprising a multi-generational chorus who will rehearse and perform music by women composers and activists. Vocal Instructor Randy Haldeman, Ph.D., invites you to come enjoy this eclectic musical collective and "be counted!"
Collaborative women leaders from across our campus and community will present reflections alongside myself throughout this event, which ends early afternoon. They include Amy Baker, President and CEO of Citizens State Bank; Anna Alvarado, Ed.D., Superintendent of the Freeport School District; as well as Heidi Spotts-Manthey and Highland's own Sociology Instructor Julie Hartman-Linck, Ph.D., locally representing the League of Women Voters.
After a noon lunch break in the lobby, the day will continue with EqualiTea in Highland's Clarence Mitchell Library. This event organized by Reference Librarian Laura Watson offers an opportunity to lift our voices again and read aloud the historical stories of women's equality.
Highland will continue celebrating this special month internally with a trivia contest and film screening of "Picture a Scientist" by the Women + in Science Club, led by students and biology faculty members Karla Guiffre and Juliet Moderow.
We will end March with another fine arts production, for which Theatre Instructor Laura Early attributes inspiration to the women in science on our campus. "Silent Sky" tells the story of Henrietta Swan Leavitt, an American astronomer whose unprecedented work in the early 1900s allowed astronomers to finally measure the distance to galaxies outside our own. Leavitt is even more well-known for placing a spotlight on the stories of women in STEM fields, at a time when their ideas and contributions to research were not widely accepted.
The production runs March 30-31 and April 1 in the Ferguson Fine Arts Center. I hope you will take time in the days ahead to honor the National Women's History Month Association's theme of honoring "women in every community who have devoted their lives and talents to producing art and news, pursuing truth and reflecting society decade after decade."
The Greater Freeport Partnership will continue to highlight community activities and celebrations in honor and promote Women's History Month in March. Please see other features in this newsletter and social media posts throughout the month.