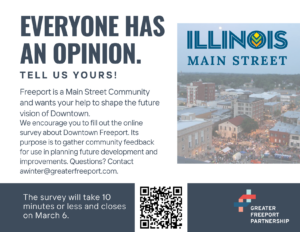 The Greater Freeport Partnership is requesting input from the community to shape the future of downtown Freeport. Please complete the survey via this link before March 6.
Illinois Main Street supports a network of communities across the state that are working to bring prosperity to their older and historic downtowns and commercial districts. The survey, which was developed by Illinois Main Street, asks for feedback on the features, uses and amenities you currently enjoy and those you wish to see added to downtown Freeport. The survey takes less than ten minutes to complete and is completely anonymous.
"The survey results are extremely important to developing our strategic plan for downtown Freeport in the years to come. The Main Street process, and the Partnership's journey to work within it, is prioritized by these responses, as well as accompanying listening sessions," said Partnership Development Director Andrea Schultz Winter.
On March 15th and 16th staff from both Illinois and National Main Street organizations will be in Freeport to facilitate stakeholder listening sessions. Input from listening sessions, responses from this survey, and market data will be used to help identify Transformation (revitalization) Strategies for downtown Freeport. More information about the listening sessions will be forthcoming and communicated via the Partnership's website and social media channels. Please visit greaterfreeport.com/mainstreet for updates.