Come Home to Build the Life You Want
Moving back to Freeport and Stephenson County, IL is like hanging out with an old friend. You'll find comfort in the familiar. Yet, deep down, you know there are more stories to be written. That's why Stephenson County is the perfect place to start your next adventure.  Build a high-powered career through numerous local and remote opportunities. Chase after your dream of being your own boss and start a small business. Or put down roots that your family will enjoy for years to come. You can do it all right here! Come home to build the life you want to live. You'll find there is no limit on how far you can go or how much you can do.
Get more for your money.
In addition to numerous opportunities, Freeport and Stephenson County's low cost of living helps your dollars go farther. That means owning a home is easily within reach for many. Choose from tree-line boulevards and historic homes to farmettes and downtown lofts. We have all styles and price ranges at a fraction of what you'd find in metro areas. Don't believe us? Check out our home prices compared to the cost of living in Chicago and Milwaukee!
Find all your passions in one place.
Yes, our communities are rooted in small-town charm. But that doesn't mean we are stuck in the past! Our downtown areas are growing and thriving with local businesses that offer unique and creative niches. Dining and social hot spots resonate with tastes and flavors from around the world. Plus, short commutes give you more time to do what you love. We have a rich arts and culture scene that speaks to all ages! And you'll never run out of things to do outdoors. We have over 50 miles of hiking and biking trails and 30 miles of water trails – all with breathtaking views!
Give your family access to the best.
Quality education and healthcare are also guaranteed in Freeport and Stephenson County. Public or private, mid-sized or small, our schools rank among the best. This includes a Grammy award-winning music program and a lifelong learning program at Highland Community College! Our healthcare system is also top-notch. Two award-winning health systems provide care to our community including FHN and SSM Health. Both provide broad medical and surgical services and convenient locations and hours for all ages.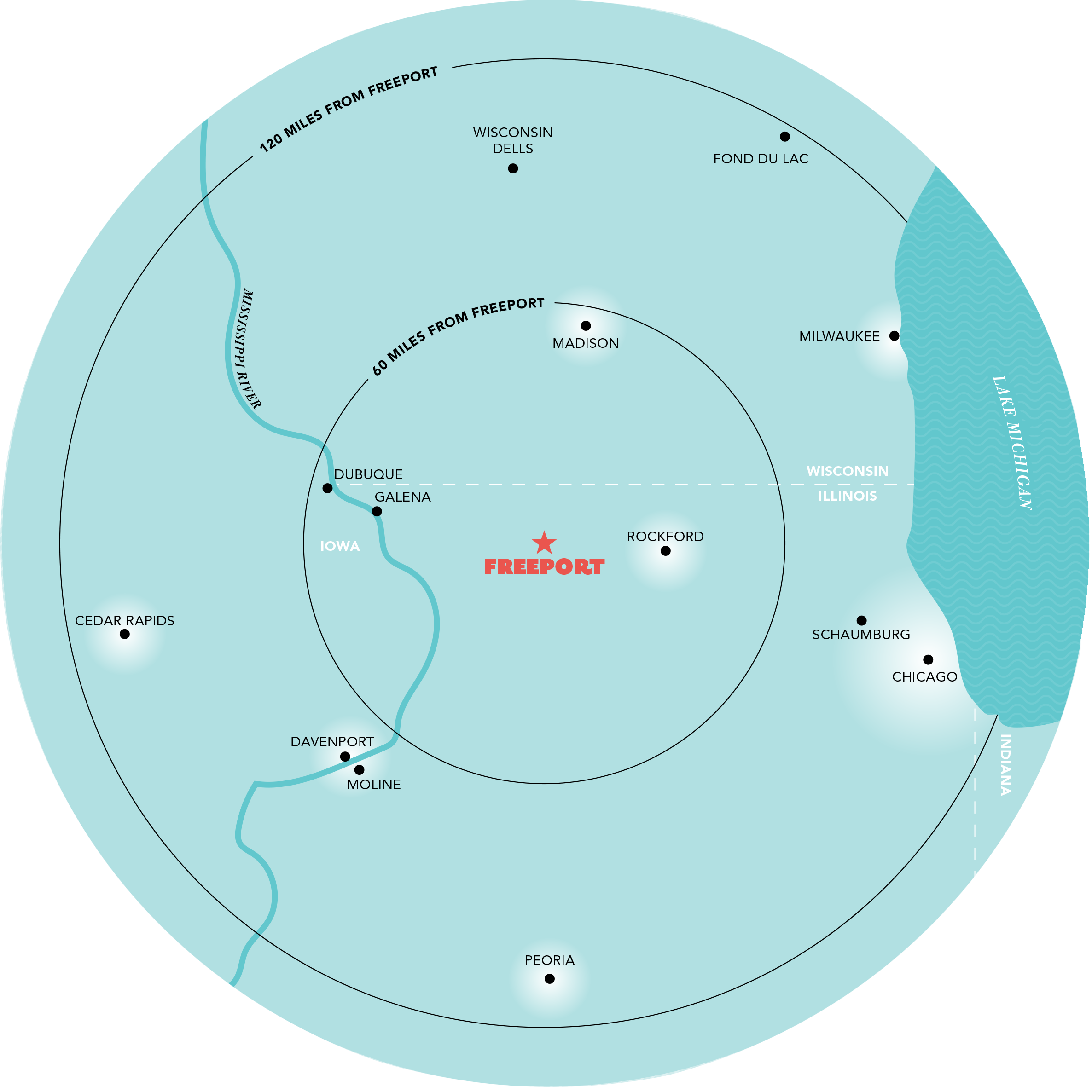 Enjoy quick trips to numerous metro areas.
Want a night out in the city? The Greater Freeport area is conveniently located to major metro areas in every direction! Dubuque, Chicago, Madison, Milwaukee, and the Quad Cities are all within 100 miles! We're also only 45 minutes from Galena and 25 minutes from Rockford. This gives you a great mix of things to do all within a short drive.
Discover more ways to make a difference.
You'll find it's much easier to see the impact you're making when you live outside metro areas. Shopping local could directly benefit you or one of your friends. Volunteering to help around town could mean working side-by-side with your neighbors or at a local school. With non-profits in education, senior services, environmental advocacy, and more, Stephenson County offers numerous opportunities to give back, expand your horizons, and make real change happen. Plus, you'll likely meet new friends while you're at it!
Josh Elliott describes his passion for giving back to the community that helped to create great memories in his childhood and now for his own family. An entrepreneur and artist, he encourages others to invest in their home.
Want to live the Freeport life?
Inclusive Education supports Hispanic Heritage Month
September 21, 2023
As summer fades and fall dawns upon us, September brings with it a tapestry of colors, cultures, and celebrations! This month is filled with significance and honors Hispanic Heritage Month, which pays tribute to our Hispanic community. During this month, we come together to celebrate vibrant cultures, rich histories, and invaluable contributions of the Hispanic culture. This month isn't just […]
Moving Forward with Gratitude
September 14, 2023
As my time as the executive director of the Greater Freeport Partnership draws to a close, I want to take a moment to express my deepest gratitude and heartfelt appreciation to each and every one of you. It has been an incredible journey leading this organization since May 2020, and I am truly honored to have had the opportunity to […]