Events
Freeport and Stephenson County host numerous events each year to enliven the spirt of the area, showcase our greatest attractions and welcome visitors to experience the best of our region.

Download our app for all of your Cruise Night information! Search "Greater Freeport Partnership" on iTunes or Google Play.
ALL SPOTS ARE NOW BEING SOLD DAY-OF.
Please enter at Stephenson Street and Adams for first-come, first-serve parking spaces for $10 to be part of the car show.
Need to know where to park to be a Cruise Night spectator? Check out this map for free public parking lots.
Click here for a map of the Cruise Route.
Handicap parking is also available at the corner of Adams Street & Stephenson Street.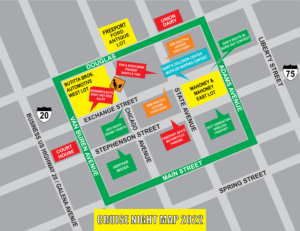 Hot rods, rat rods, street rods, muscle car, antiques, coupes, convertibles, sedans, trucks, motorcycles and station wagons will all be part of this year's Cruise Night in downtown Freeport . Diverse car collectors from as many as five states will gather to display their special vehicle and gaze at everyone else's. Cruise Night is a celebration of a less hectic time before cellphones, video games and social media.
In the 1950s and '60s as cars became more accessible, and more powerful young people became mobile and they gathered downtown to hang out. Later in the night, the stoplights at each intersection downtown were put on a flash and so traffic didn't have to stop and the cruising of the circuit began. In Freeport, 43 years ago a group of local car enthusiasts came together and created a car club called Freeport Street Machines and they would gather downtown to display their cars and hang out.
What they didn't know is that their efforts would create the single biggest event in Freeport attracting more than 10,000 people on one evening all to celebrate cars. Cruise Night is more than the cars though. There is live music, food and most of all it is, a gathering of family and friends.
Expect to do some walking when you come down to Cruise Night and make sure you bring your camera and lawn chair for the Cruise. Cars will be on display in several lots and on city streets throughout the downtown area. Souvenir shirts will be on sale at the information booth. The event begins at 4 p.m., an hour earlier this year, with the opening of the food court so make sure you bring your appetite too.
The Gary's Collision & Customs Muffler rapping contest starts at 5  pm and Dan's 66 burn-out contest at 6 pm. These contests are a must-see and hear! The cruising starts at 7 pm. To volunteer please call 815-233-6301. And continue to check our Facebook Event page for more details as the event draws closer.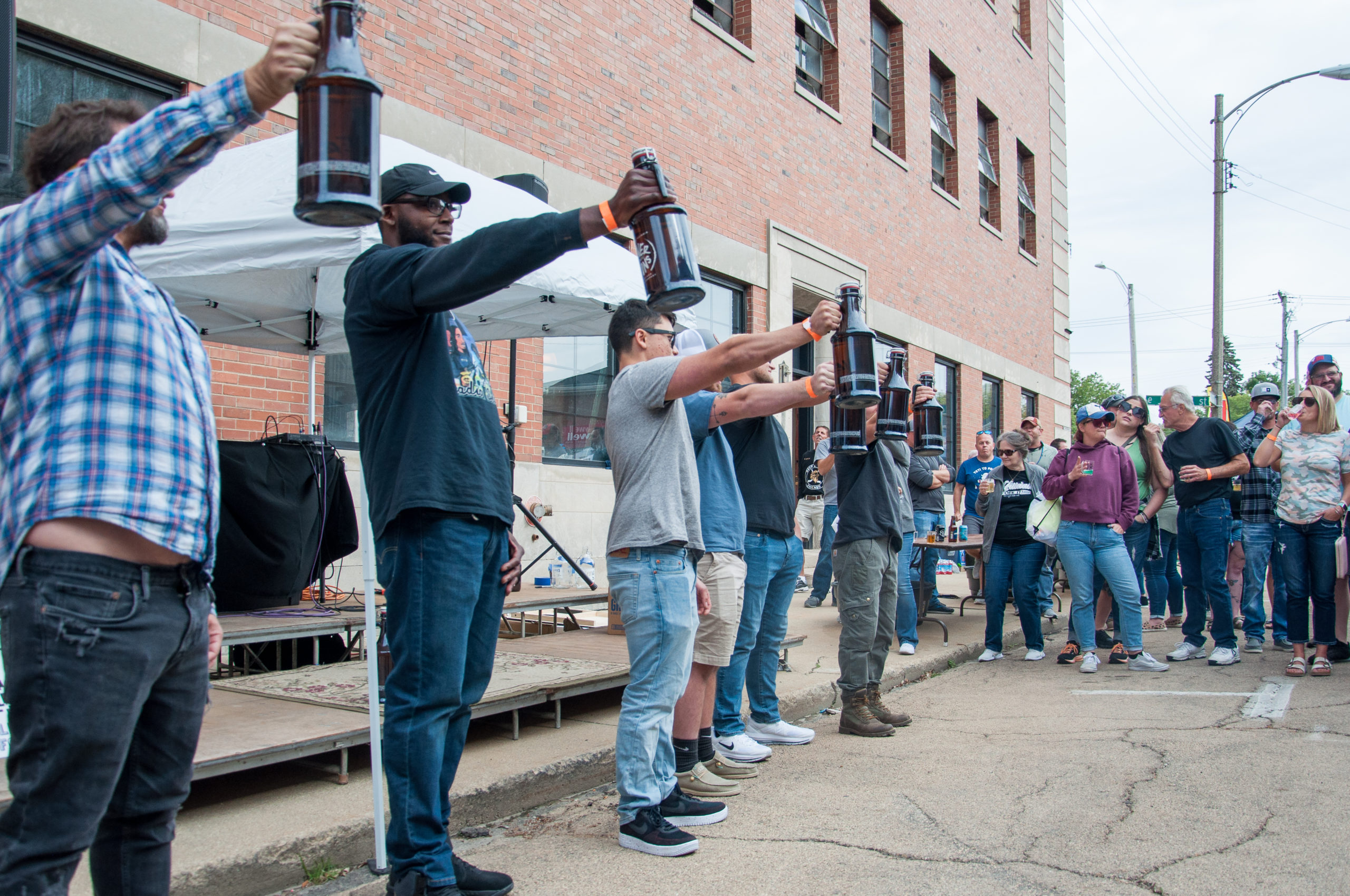 Bring your friends and enjoy the best beer-tasting event in the region! Sample beers direct from the breweries of the area in a lively event format featuring food trucks and competitive games.  This is a 21 and older event that takes place rain or shine.
Participants can purchase $30 general admission ticket online which includes entry, 20 tasting tickets, and a souvenir glass. There will be a  limited number of $60 VIP passes also available, which include one-hour early entry, 30 tasting tickets, access to special releases, a Brewfest t-shirt, a special VIP souvenir glass, swag bag, VIP lounge, and an option to buy a discounted limited edition Pretzel City Brewfest hoodie (not available to the general public).
Tickets can be purchased in advance with credit/debit card online. Tickets will also be available at the gate for $40 for general admission the day of the event, VIP will not be sold the day of the event. Designated driver tickets can be purchased the day of the event at the gate for $10.
Wine & Witches – October 13, 2022
Grab your girlfriends (or guys, too) and head to Downtown Freeport for a wicked good time! During this Freeport Festival District day, you can purchase your favorite brew at one of the downtown restaurants or bars and browse the amazing retail establishments for fall fashion and fun. This event is free to the public. Stores remain open until 8 pm.
Bootiful Saturday – October 29, 2022
Bring the kids Downtown Freeport and enjoy SCOOB! at the Lindo Theatre and then take to the streets of the downtown district to trick-or-treat from local shops. The Freeport Fire Department will be available outside of the Lindo Theatre after the movie (11:15) for kids to take photos with the firemen as well.
Mistletoe Walk – November 19-20, 2022
The holidays come a little early in Downtown Freeport! The weekend before Thanksgiving we are already getting shoppers in the mood for the shopping season with decorated storefronts, visits from Santa, lighting of the Holiday Hero Tree as well as specials from our MANY local boutiques and stores. For a full list of shops, please visit our Shopping page.
Small Business Saturday – November 26, 2022
Now a national phenomenon, take the time to shop from your local small businesses to boost your holiday spirit on the day that follows Black Friday. See individual store promotions for specific details.
It is a celebration of Freeport's favorite salty snack and mascot! The pretzel is not just a mascot, it is an identifying badge of honor that carries locals throughout the country. Enjoy everything pretzel with food, cultural entertainment and local vendors. Stay tuned for details as event planning continues for 2023!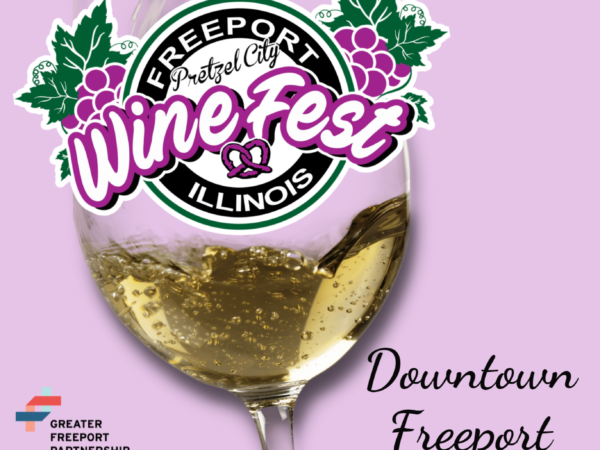 Wine enthusiasts from around the region flock to Downtown Freeport to enjoy great shopping, food and, of course, wine at Pretzel City Winefest!
Wineries and wine retailers from around the region are showcased at participating storefronts in Downtown Freeport where attendees can walk around and try their favorite varieties while shopping a variety of locations they may miss on a normal trip to downtown. Pretzel City Winefest is hosted by the Greater Freeport Partnership to attract residents and visitors to downtown businesses and showcase the wonderful shops and restaurants Freeport offers.
A $25 general admission ticket includes souvenir tasting glass, wine bag and tasting hours noon – 4 pm. We will also provide you with a booklet and map of the 16 participating locations in Downtown Freeport!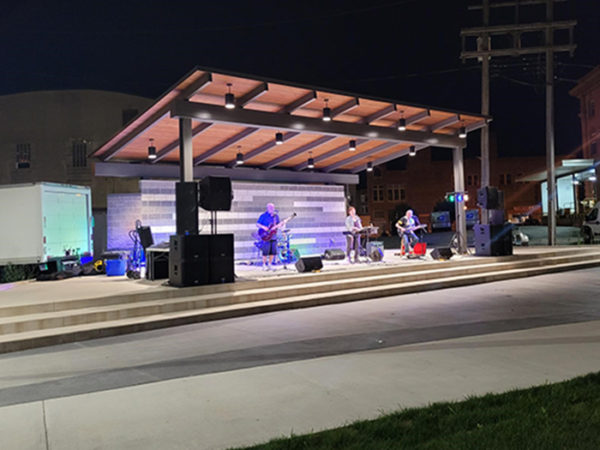 Music on Chicago has been a tradition in Downtown Freeport for over 20 years because of the great music, comradery, and summer-celebration atmosphere it brings! All events take place in Downtown Freeport's new Art Plaza at the corner of Chicago Avenue and Douglas Street. The grounds are ideal for a social gathering with friends or bring the family and blankets to take your spot on the lawn.
This year's entertainment includes:
June 3 – Dirty Fishnet Stockings (8-11 pm) with Rockabilly Kid (5:30-7:45 pm)
July 1 – Big Daddy Woo Woo (8-11 pm) with Better Late Than Never (5:30-7:45 pm)
August 5 – FreeFall (8-11 pm) with High Stakes (5:30-7:45 pm)
$5 admission includes access to the summer's best party and entertainment by amazing musical acts. Local food vendors are available for dinner options and volunteers serve alcoholic and non-alcoholic beverages during the event. Come join the fun in 2022!
Our Unofficial Ambassadors
July 28, 2022
Like many others, I took a recent road-trip vacation to tour well-established destination river towns; towns that have embraced placemaking around arts and historic architecture.  Although, Chattanooga, TN; Asheville, NC; and Savannah, GA have been building their respective destination brands for a long time, aside from the vast investments, amenities and hospitality options, there was one thing that resonated. No […]
Greater Freeport Partnership Community Business Academy
July 18, 2022
The Greater Freeport Partnership Community Business Academy (CBA) is an experiential, interactive learning program for aspiring and current business owners. The CBA is a place to learn basic business skills, develop enthusiasm for your business idea and connect with a community of ambitious entrepreneurs. During the course, participants will become familiar with local permitting process(es) and connect with financial, accounting, […]