Events
Freeport and Stephenson County host numerous events each year to enliven the spirt of the area, showcase our greatest attractions and welcome visitors to experience the best of our region.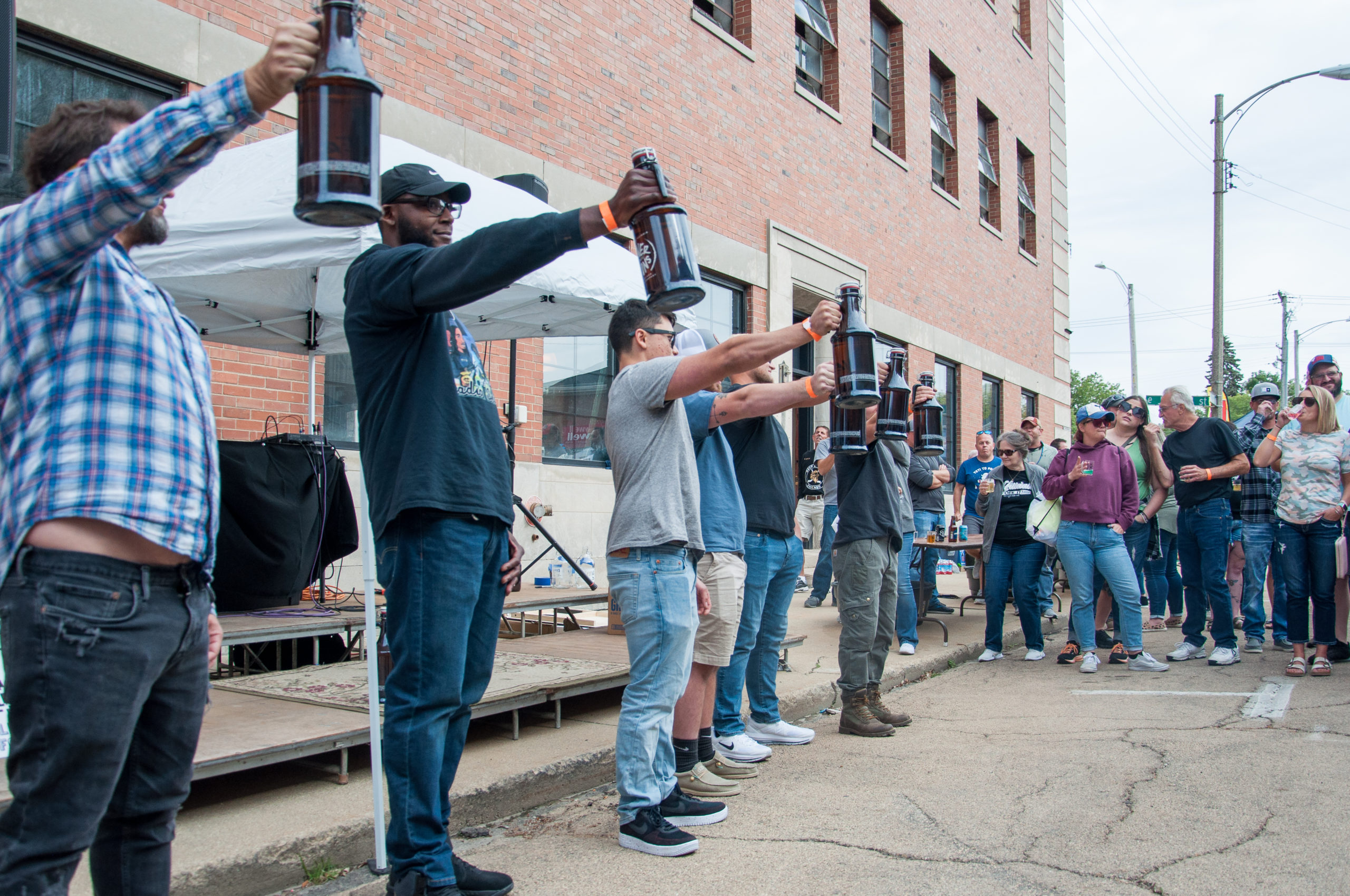 The BEST EVENT in ILLINOIS is back! Bring your friends and enjoy the best beer-tasting event in the region! Sample beers direct from the breweries of the area in a lively event format featuring food trucks and competitive games.  This is a 21 and older event that takes place rain or shine.
Participants can purchase $30 general admission ticket online which includes entry, 20 tasting tickets, and a souvenir glass. There will be a  limited number of $60 VIP passes also available, which include one-hour early entry, 30 tasting tickets, access to special releases, a Brewfest t-shirt, a special VIP souvenir glass, swag bag, and VIP lounge.
Tickets can be purchased in advance with credit/debit card online. Tickets will also be available at the gate for $40 for general admission the day of the event, VIP will not be sold the day of the event. Designated driver tickets can be purchased the day of the event at the gate for $10.
All of this year's Brewfest information can be found on the Greater Freeport Partnership mobile app. Download it for free on Google Play Store or Apple App Store for a listing of breweries attending, special releases, food vendors and other important event details.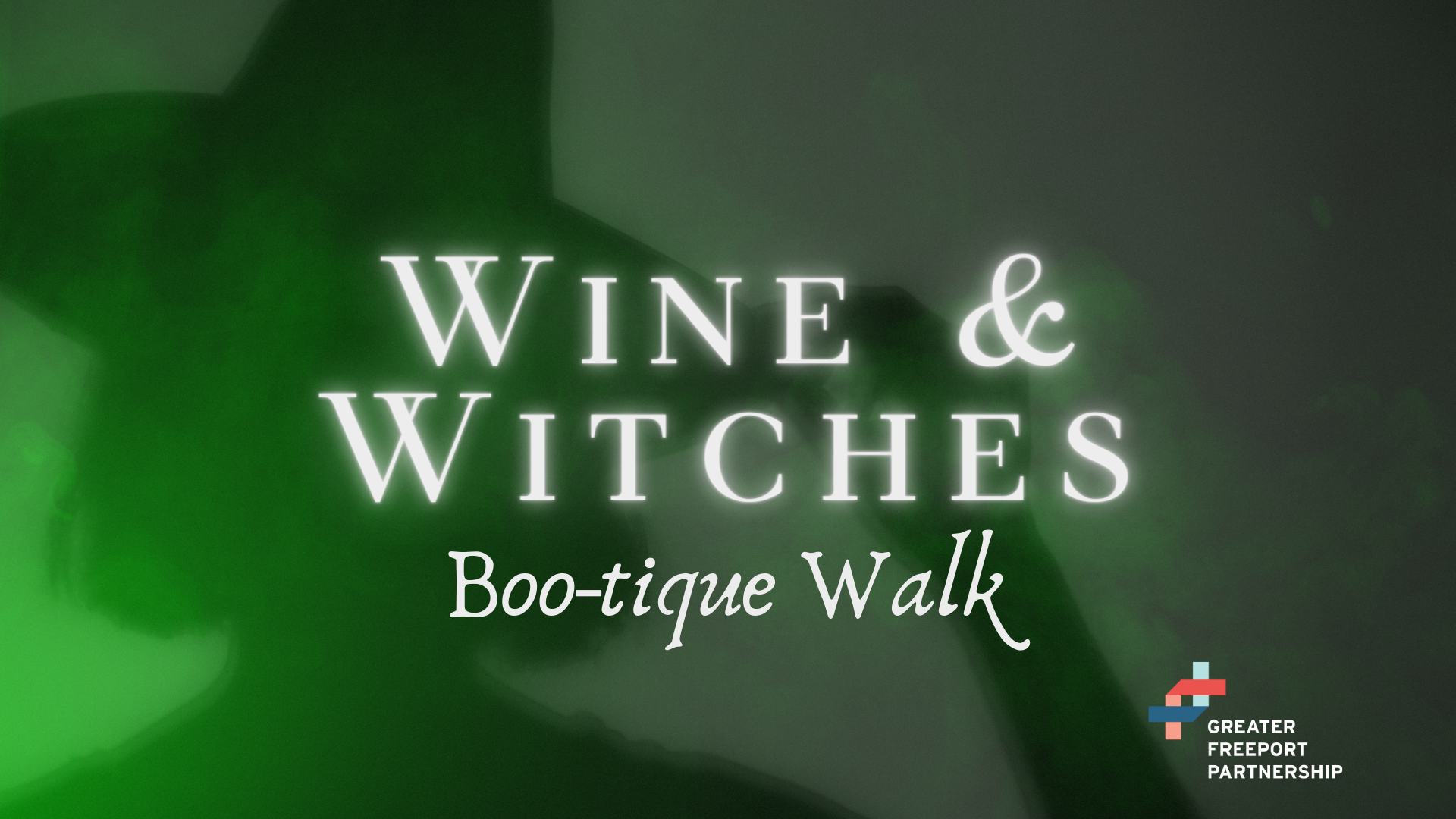 Wine & Witches Boo-tique Walk – October 12, 2023
Grab your girlfriends (or guys, too) and head to Downtown Freeport for a wicked good time! During this Freeport Festival District day, you can purchase your favorite brew at one of the downtown restaurants or bars and browse the amazing retail establishments for fall fashion and fun. This event is free to the public. The event begins at 4 pm and stores remain open until 8 pm.
For an added bonus, be our VIP guest! VIPs are offered special swag from participating boo-tiques and offers for a scary good time. To register as a VIP, click here.
Dress in your favorite witch costume as prizes will be awarded for best hat, group, personal costume and nails.
Bootiful Saturday – October 28, 2023
Bring the kids Downtown Freeport for a Halloween movie at the Lindo Theatre and then take to the streets of the downtown district to trick-or-treat from local shops.
In addition to treats, there will be games, face painting and plenty of activities to keep the whole family busy. Grab your scavenger hunt entry form at the Lindo Theatre of Progressive Fighting Concepts to complete for prizes!
Mistletoe Walk – November 17-19, 2023
The holidays come a little early in Downtown Freeport! The weekend before Thanksgiving we are already getting shoppers in the mood for the shopping season with decorated storefronts, visits from Santa, lighting of the Holiday Hero Tree as well as specials from our MANY local boutiques and stores.
The horse-drawn carriage will be available, thanks to our local sponsors, from noon to 4 pm on Saturday, November 18. Take a ride around downtown in between visiting your favorite locally owned stores. Live holiday music will be provided from great local talent throughout downtown. This year's Hero Tree Lighting will be held on the plaza of the Stephenson County Courthouse at 5 pm on Saturday, as well.
Continue to check the Mistletoe Walk Facebook page for additional activities and special events being hosted by stores.
Small Business Saturday – November 25, 2023
Now a national phenomenon, take the time to shop from your local small businesses to boost your holiday spirit on the day that follows Black Friday. See individual store promotions for specific details.
It is a celebration of Freeport's favorite salty snack and mascot! The pretzel is not just a mascot, it is an identifying badge of honor that carries locals throughout the country. Enjoy everything pretzel with food, cultural entertainment and local vendors. Stay tuned for details as event planning continues for 2023!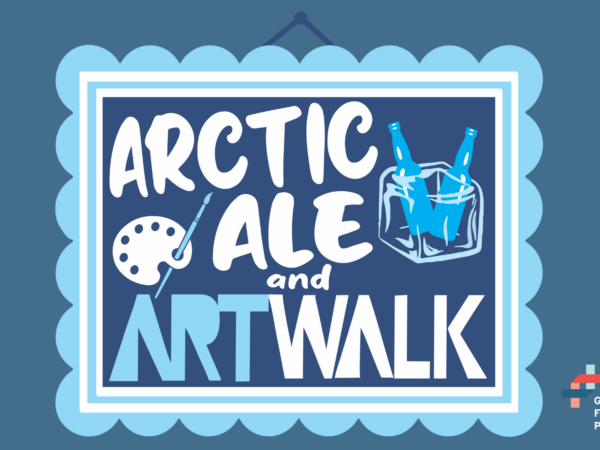 By the end of February we are all ready to get out of the house and break the cabin fever! Arctic Ale & Art Walk is your cure for the winter blues and entice you into Downtown Freeport for a sampling of local beer, shopping and exhibits by local artists and artisans all while enjoying your favorite downtown stores. Live music fills the streets at warming stations throughout downtown as you stroll during this Freeport Festival District day (link to City's Festival District page). This is a FREE event, however please start your day by checking in to receive your tasting wristband and cup at the corner of Stephenson Street and Chicago Avenue from noon to 4 pm.
For more information, visit the event Facebook page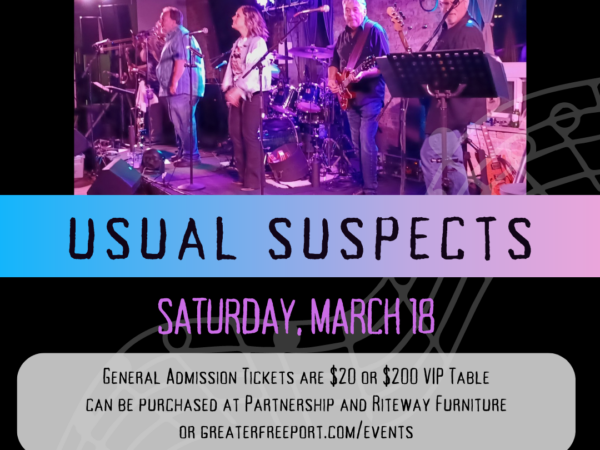 They're back for a one-time reunion performance! The regional favorite Usual Suspects has rarely played in the last two decades and they are returning for a special show at the Masonic Event Center Ballroom in Freeport. General admission tickets can be purchased for $20 or a VIP reserved table of eight can be purchased for $200. Cash bar and food will be available on site. Doors open at 6 pm and show starts at 7 pm. There will be plenty of room to dance, so be ready to boogie!
The Usual Suspects concert is a fundraiser for the Greater Freeport Partnership's downtown placemaking efforts. Placemaking is considered all activities that build the best experience for our residents and visitors including downtown flowers and furniture, litter control, art displays and other public amenities. Not only is the concert a great night out, you are also supporting efforts that will improve what you see Downtown Freeport!
Visit this ticketing web site to reserve your general admission or VIP tickets!
Check out other event information and updates by visiting the event Facecbook page.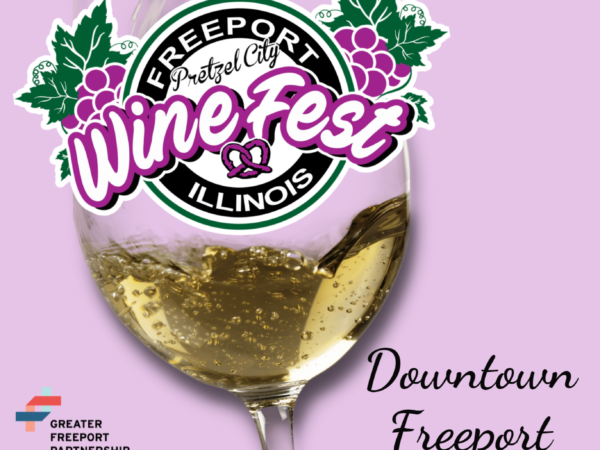 Wine enthusiasts from around the region flock to Downtown Freeport to enjoy great shopping, food and, of course, wine at Pretzel City Winefest!
Wineries and wine retailers from around the region are showcased at participating storefronts in Downtown Freeport where attendees can walk around and try their favorite varieties while shopping a variety of locations they may miss on a normal trip to downtown. Pretzel City Winefest is hosted by the Greater Freeport Partnership to attract residents and visitors to downtown businesses and showcase the wonderful shops and restaurants Freeport offers.
A $25 general admission ticket includes souvenir tasting glass, wine bag and tasting hours noon – 4 pm. We will also provide you with a booklet and map of the 16 participating locations in Downtown Freeport!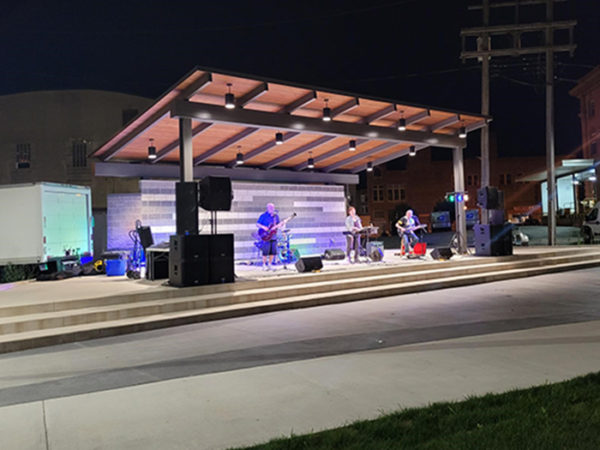 Music on Chicago has been a tradition in Downtown Freeport for over 20 years because of the great music, comradery, and summer-celebration atmosphere it brings! All events take place in Downtown Freeport's new Art Plaza at the corner of Chicago Avenue and Douglas Street. The grounds are ideal for a social gathering with friends or bring the family and blankets to take your spot on the lawn.
This year's entertainment includes:
June 2 – That Gurl (8-11 pm) with Route 66 (5:30-7:45 pm)
July 7 – Blue Steel (6-10 pm)
August 4 – Boogie & the Yo-Yoz
$5 admission includes access to the summer's best party and entertainment by amazing musical acts. Local food vendors are available for dinner options and volunteers serve alcoholic and non-alcoholic beverages during the event. Come join the fun in 2023!

Download our app for all of your Cruise Night information! Search "Greater Freeport Partnership" on iTunes or Google Play.
Need to know where to park to be a Cruise Night spectator? Check out this map for free public parking lots.
Click here for a map of the Cruise Route.
Handicap parking is also available at the corner of Adams Street & Stephenson Street.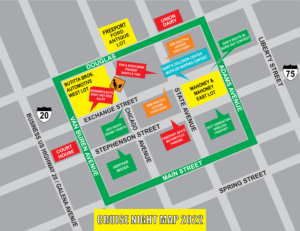 Hot rods, rat rods, street rods, muscle car, antiques, coupes, convertibles, sedans, trucks, motorcycles and station wagons will all be part of this year's Cruise Night in downtown Freeport . Diverse car collectors from as many as five states will gather to display their special vehicle and gaze at everyone else's. Cruise Night is a celebration of a less hectic time before cellphones, video games and social media.
In the 1950s and '60s as cars became more accessible, and more powerful young people became mobile and they gathered downtown to hang out. Later in the night, the stoplights at each intersection downtown were put on a flash and so traffic didn't have to stop and the cruising of the circuit began. In Freeport, 43 years ago a group of local car enthusiasts came together and created a car club called Freeport Street Machines and they would gather downtown to display their cars and hang out.
What they didn't know is that their efforts would create the single biggest event in Freeport attracting more than 10,000 people on one evening all to celebrate cars. Cruise Night is more than the cars though. There is live music, food and most of all it is, a gathering of family and friends.
Expect to do some walking when you come down to Cruise Night and make sure you bring your camera and lawn chair for the Cruise. Cars will be on display in several lots and on city streets throughout the downtown area. Souvenir shirts will be on sale at the information booth. The event begins at 4 p.m., an hour earlier this year, with the opening of the food court so make sure you bring your appetite too.
The Gary's Collision & Customs Muffler rapping contest starts at 5  pm and Dan's 66 burn-out contest at 6 pm. These contests are a must-see and hear! The cruising starts at 7 pm. To volunteer please call 815-233-6301. And continue to check our Facebook Event page for more details as the event draws closer.
Inclusive Education supports Hispanic Heritage Month
September 21, 2023
As summer fades and fall dawns upon us, September brings with it a tapestry of colors, cultures, and celebrations! This month is filled with significance and honors Hispanic Heritage Month, which pays tribute to our Hispanic community. During this month, we come together to celebrate vibrant cultures, rich histories, and invaluable contributions of the Hispanic culture. This month isn't just […]
Moving Forward with Gratitude
September 14, 2023
As my time as the executive director of the Greater Freeport Partnership draws to a close, I want to take a moment to express my deepest gratitude and heartfelt appreciation to each and every one of you. It has been an incredible journey leading this organization since May 2020, and I am truly honored to have had the opportunity to […]