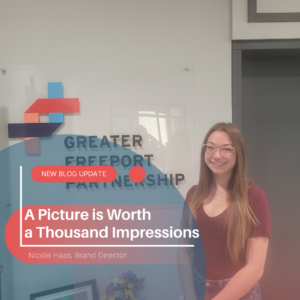 Yep, I'm bringing you another message talking about the power of visual representation. Think about the way you make decisions about what to buy, menu items to order, or places to visit simply based on how things look in the photos. It makes a BIG difference!
As you look around your business, neighborhood or venue, the visual appearance of your building's exterior, interior office space, and even logo and décor are significant contributing factors for your customers, clients, and visitors. When people make decisions on where to visit, and moreover where to live, they place a great emphasis on how things look.
Knowing the importance of this visual perspective, the Partnership takes great strides to work with local businesses, volunteers, and service organizations to organize clean-up efforts, placemaking initiatives, and future plans. But all these great efforts must be captured after completion to show the amazing result!
With the beauty of our midwestern spring, vibrant plantings downtown, and the completion of the Chicago Avenue Streetscape, things are definitely looking picture-worthy! The Partnership works with several area photographers to capture these scenes for promotion and marketing now and for the future. However, it is so hard to be everywhere at once. Please send us the great visuals you see throughout Freeport and Stephenson County. If you are visiting area attractions, businesses or just marveling at the natural landscape, we would love to see your photos. Please send any photos you think fit our needs to photos@greaterfreeport.com.
In addition, the Partnership would also like to introduce our new summer intern. Abby Kubatzke just finished her junior year at the University of Illinois and is majoring in advertising. As a 2020 Freeport High School graduate, Abby is excited to be back in her hometown to capture photos, videos and help create content to promote and show the best of Freeport and Stephenson County. If you see Abby out and about, please introduce yourself. We are happy to have her and her talents on our team while she is home for summer break. If you would like to arrange for Abby to stop at your venue or business to get some photos for promotional use, reach out and I'm happy to make the connection.
A photo is not only worth a thousand words … it could be the key to gaining impressions and creating the digital advantage you are looking for.