Sitting majestically on the east side of the county limits is the Freeport/Stephenson County Visitor Center. Built to be a catalyst for travelers to veer off of the Highway 20 bypass, the space continues its mission with expanded ideas and displays to cater to changing traveler needs. 
While everyone's immediate need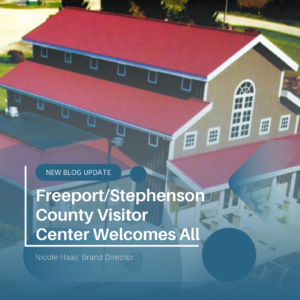 of the visitor center is the clean, well-maintained restrooms, it also stocks information on attractions, business services, upcoming events and displays for local vendors. The four hostesses at the visitor center are professional and warm in their welcome of guests and help to answer questions, offer suggestions for stops and provide information.  
However, people don't travel with the same habits and needs that they used to! We use our phones to help find attractions, places to stay, services and things to do in the area. Our navigation apps provide directions rather than paper maps and directories.  So we are finding new and creative ways to make a stop at the visitor center a memorable experience! 
The Holiday Gift Show has always been an annual highlight for the space and attracted over 3,500 visitors to purchase local products in less than two months! We are expanding on this success and asking interested vendors to display their merchandise year-round in 2022. Items including jewelry, home décor, personal care items, treats, and local beer from Stephenson County makers will be for sale throughout the year making the visitor center a true haven for local products and producers and we are always searching for more.  
New merchandise kiosks will enhance the existing and additional display opportunities at the visitor center. We are filling the calendar with main floor displays for 2022 and adding more business display opportunities to the main floor. If you are interested in either creating a main floor display or a business display, please contact me. 
More than ever, travelers are also adding the family pet to their road trip. We continue to see leashed pets taking a break at the visitor center as well and want to ensure these travelers know we are a pet-friendly space. Once the ground thaws, we will be installing a small feature to welcome pet owners and provide them with the amenities they need to keep the grounds clean.  
The Freeport/Stephenson County Visitor Center welcomed over 10,000 guests in 2021 who were introduced to our area with the displays, information and appeal of the space. The staff and leadership at the visitor center continue the mission to attract and direct tourists and consumers to the businesses and attractions off of Highway 20 with genuine hospitality and community pride. 
Nicole Haas is the Brand Director for the Greater Freeport Partnership, nhaas@greaterfreeport.com, 815-801-3676.