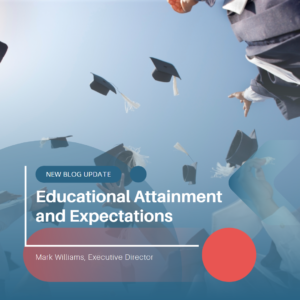 Graduation season was in full swing this past weekend in our area.  Congratulations to all those who have attained their educational goals and are now looking forward to advancing their careers and path in life.  Hopefully some of the college graduates find a job with an existing company in our region or find a home to work remotely in our region.  It just may be our affordable cost of living and housing costs that helps them meet their expectations.
Speaking of expectations, the National Association of Colleges and Employers (NACE) reported in April, that College hiring will continue to surge as they plan to hire 31.6percent more college graduates from this year's pool of graduates than they did in 2021 (NACE – College Hiring Surge).  With the surge in expected hires comes an increase in salaries due to the increase in the demand for top talent. However, there appears to be a mismatch in what the graduates expect they will earn with the reality of what they will be paid. According to a CNBC Report and a survey completed by Real Estate Witch, college students are overestimating their starting salary by $50,000.  The report states that 90 percent of the college students overestimated what their entry-level job will pay.  Their expectation of $103,880 salary is nearly double of what the average starting salary is (Real Estate Witch – College Student Salary Expectations).
Secondary education or a college education is not for everyone and, in fact, a high school graduate prepared and ready for employment should be recognized too.  An interesting idea in Peoria is a good example in recognizing such achievement.  The trade school hosted a "signing day" honoring graduating seniors from the Woodruff Career Pathway Program who signed a letter of employment with a local employer. The news video can be seen here, centralillinoisproud.com-signingday.
Coming up in June, we will be hosting a quarterly Partnership-level member gathering addressing education in our region.  Educational attainment can have a profound effect on health and life outcomes. Do children and adults have a fair and equitable chance to participate in lifelong learning? Are they achieving key milestones that help them succeed in life?
When people have the ability to think critically and engage in the civic life of a community, they not only live longer, but they serve as a critical foundation for democracy and a thriving community. Educational attainment refers to the highest grade level or degree that an individual has completed.
Mark Williams is the Executive Director of the Greater Freeport Partnership and can be reached at mwilliams@greaterfreeport.com, 815-233-1356.