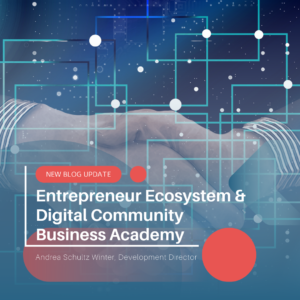 Happy National Economic Development Week! In the spirit of celebration, and because entrepreneurial development and small business support is important to the overall economic health of our region, I wanted to share some exciting news about an upcoming program the Partnership is developing. 
Since September 2021, Partnership staff have been participating in the National League of Cities, City Innovation Ecosystem Program. Participation in this program is in collaboration with the City of Freeport and our programmatic focus area is centered around "informal Entrepreneurship" and helping entrepreneurs formalize their businesses.  
We virtually attended a kickoff event in November, participated in monthly cohort calls with cities from all over the United States, and filed for a $15,000 implementation grant to start our local program. Last month, we received news that our grant has been awarded. The seed funding will start a Digital Community Small Business Academy with technical support from Rising Tide Capital (RTC), a nonprofit organization that focuses on building inclusive communities of resilient entrepreneurs.  RTC is well-versed in building community business academies, as they do this work all over the country. We are excited to collaborate with this team to develop this local resource. 
Last week, Mark, Bill and I had a kickoff meeting with RTC staff to begin planning the academy. The summer months will be used for planning and support setup. Applications to participate in the academy will be publicized and circulated in August. The academy class cohort will begin mid-September and run for 12 weeks with a graduation ceremony in mid-December.  Classes will meet virtually, once a week for 12 weeks, exact timing to be determined. During classes, the Partnership will connect participants with local government and permitting agencies, such as the Stephenson County Health Department (if a food-based business) to understand the processes necessary to open and operate a local business.  
When the academy application window opens, the Partnership will publicize this opportunity on all our social media accounts, and via press releases, blogs, and various other media outlets. Additionally, we will make a focused effort to reach marginalized minority populations to ensure there is an awareness of this opportunity.  As Bill Clow, the Partnership's business engagement director, has mentioned in previous messages, we have seen an increase in the number of women and minority-owned business start-ups. This is a trend that is not unique to Freeport, and we do not anticipate it changing anytime soon. 
We look forward to sharing more about the Digital Community Business Academy in the coming months. Stay tuned. 
Andrea Schultz Winter is the Development Director for the Greater Freeport Partnership. She can be reached at awinter@greaterfreeport.com or 815-233-1354.