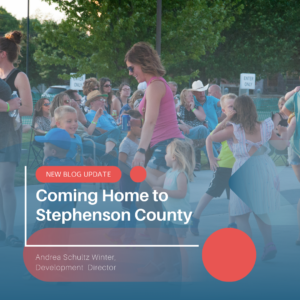 In April of 2010, my husband, Scott Winter, and our two children, both under the age of 2, left Portland, Oregon for the last time to make our voyage 'home' to Freeport. A week later all our earthly possessions arrived in a semi-trailer and a week after that we moved into our house where we have lived ever since. Freeport is Scott's hometown, and I like to say, my "adopted' hometown; I'm not originally a Pretzel, but I'm raising 3 Pretzels. We moved back for a variety of reasons—supportive extended family network, career opportunities, affordability, and generally a slower-paced lifestyle. All those reasons hold true today. We are happy we've returned home and want others to do the same. 
However, regardless of our transition, population loss in northwest Illinois is real and carries significant impacts. According to the 2020 Census, Stephenson County's average median age is 45.5 years.  Ten years prior, in 2010, the median age was 43.0 years. Currently, Stephenson County supports 45,495 people reflecting a decrease of 2,216 people since 2010. Furthermore, the population of the county is projected to decline by 3.54 percent, or 1,618 persons, by 2026. This rate is a higher negative growth when compared to our surrounding counties. Our population is shrinking and aging. This cannot be ignored and if this trend is allowed to continue unchecked, the ramifications for all sectors, both public and private, will be devastating. 
The Partnership is beginning the Come Home Campaign, which is a talent recruitment marketing program targeting individuals who once lived in Stephenson County. We know people who have familiarity with the area, or family still living here, are more likely to make the move back home. The mission of the campaign is to reach a target demographic and promote county culture, financial opportunity, and family connection. Our campaign will feature locals of various ages from a variety of professional fields who grew up here, moved away for education or career opportunities but have ultimately moved back home to build their lives and businesses in Stephenson County. These narratives will be showcased on our website and various social media channels. Interviews and marketing assets are being developed in July with a target campaign launch for early this fall.   
Population retention and growth will not be solved by one strategy, or one organization alone. The Partnership looks forward to continuing this conversation with both our public and private partners. Together, we can reverse this trend of population loss.  
On another note, happy belated Father's Day to all the dads, stepdads, and grandfathers! We hope you had a memorable weekend celebrating with family and honoring those who may only be closest in our hearts. 
Andrea Schultz Winter is the Development Director for the Greater Freeport Partnership. She can be reached at awinter@greaterfreeport.com or 815-233-1354.