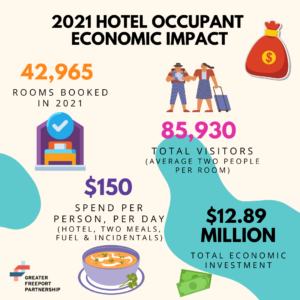 The tourism industry is laden with data, just like any other economic engine. Metrics are tracked for tax revenue, visitor spending, number of visitors, and the zip codes they came from. However, the primary tracking metric for tourism still remains hotel/motel tax revenue – or what the industry refers to as "heads in beds."  
The Greater Freeport Partnership tracks our occupancy rate in the three major hotel chains each week and provides them to the membership in this newsletter. The purpose of providing this information is to help businesses who benefit from visitor traffic to be aware of an increase they may see in the weekend ahead and as an indication of economic growth in our region. The occupancy rate is determined by the number of available hotel rooms divided by the number of rooms that have been reserved. In addition, we keep in contact with campground facilities and vacation rental properties for a sense of their occupancy rate as well. 
What is the data telling us? In 2021, hotels in Freeport (there are no hotels in the rest of Stephenson County) saw a 64 percent occupancy rate across all days of the week. On the weekends (Friday and Saturday nights), hotels saw an average occupancy of 73 percent. Even more noteworthy is that weekend occupancy May-October 2021, considered the tourism season, saw an average of 85 percent occupancy.  
So far in 2022, the trend remains the same. Our occupancy rates on a seven-day week average are nearly 60 percent. Weekend occupancy in May and so far in June are over 87 percent.  
What does all of this mean to you as a business owner in Freeport and Stephenson County? Visitors are coming to the area and staying in our accommodations! Whether it be hotels, campgrounds or vacation rental properties, the spaces available in our area are booked the majority of the time. Business travel, leisure travel and family events are bringing people to Freeport and Stephenson County to spend money and invest in our communities.  
Nicole Haas is the brand director of the Greater Freeport Partnership. She can be reached at nhaas@greaterfreeport.com or 815-801-3676.