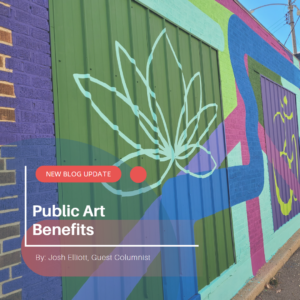 Partnership stakeholders and staff will be working with Illinois Main Street this week to develop transformational strategies to benefit downtown Freeport and its impact on the larger community. Many factors go into creating a great downtown, and one of the most important ones to create an impactful first impression is how our downtown looks to residents and visitors.
There are numerous benefits to having public art displays within a city. It boosts local economics, encourages a sense of pride within the community, enriches the physical environment and brings it to life.
When you have beautiful murals, sculptures, and community art collaborations within a city, people want to visit! It encourages tourism and boosts the economy. People will come from near and far to visit a beautiful, artistic community. Public art generates excitement and ultimately leads to more foot traffic within the city. This, in turn, benefits local businesses by drawing in tourists, and promotes more business for restaurants, hotels, and stores. Public art can transform a city into an arts and cultural destination. Also, industries that are planning to relocate or expand are more apt to do that in a place with a healthy cultural climate. Art has the ability to uplift places where people work and improve morale, productivity, and respect.  The availability of cultural activities and the arts is an important consideration for businesses that are looking to relocate.
When you have artwork in public spaces it should represent and benefit the people who live there as well as its visitors.  Art should contribute to a community's identity and promote a sense of belonging and pride. It adds value to the rich culture and history of a city. Public art displays have a way of connecting citizens by showcasing what sets it apart from other communities. It also has potential to raise public awareness about important community issues such as respect for diversity and stewardship.
One of the best things about public art is that everyone can have access to it! It's directly within the community and not confined to galleries and museums. It truly does enhance physical environments by bringing streetscapes, plazas, and buildings to life.Downtown Freeport, like many great city centers, is growing its potential for public art and how it influences a sense of place. Efforts from the Partnership, the Freeport Art Museum, and many other great local organizations are working together to make art an important part of the identity being showcased downtown.
Josh Elliott is the owner of Zealous Art Studio & Tattoo and Elliott Graphix. He is also a board member for the Greater Freeport Partnership and Freeport Art Museum.