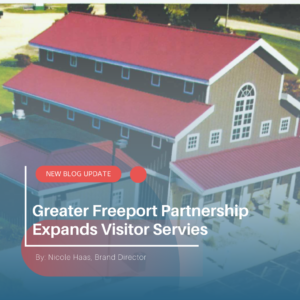 The Greater Freeport Partnership looks forward to serving visitors in multiple locations and digital platforms as they expand service areas in 2023.
To continue our mission of serving tourists and providing information on things to do in Freeport & Stephenson County, visitors services will now expand to numerous online platforms, mobile information hubs, and digital apps. Visitor information will be available in kiosk locations at area attractions and high-traffic entertainment venues. For more information on the location of visitor services, see greaterfreeport.com/visit.
The existing visitor center on Highway 20 is a beautiful building and is not seen by nearly as many people as it has been in years past. The space has a bright future for another attraction or business who can benefit from a great location and be a wonderful contribution to our region. To begin this transition, services at the visitor center space on Highway 20 will be completed on March 31 to prepare for future exhibits across the county.
Greater Freeport Partnership is working with the private not-for-profit organization that owns the building, the Freeport/Stephenson County Visitors Center, NFP, to find a new use for the property.