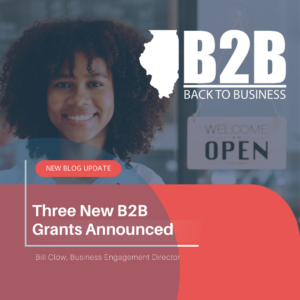 This past week, the State of Illinois announced three Back2Business (B2B) grants to help businesses in the hardest hit industries. The Greater Freeport Partnership has been selected as a Community Navigator for Stephenson County to help local businesses assess whether they qualify for the grants and to help them apply if they do. This round of B2B grants will focus on restaurants, hotels, and creative arts businesses.
In this round, eligible restaurants, hotels, and creative arts businesses are eligible to apply for $175 million in available grant funding as part of our efforts to support ongoing recovery in hard-hit industries. All applicants will receive a grant if they meet eligibility requirements and submit proper documentation and attestations required by the program. The application window for this grant is very small. Applications are open between April 5 and May 10.
There are different criteria for each of the three grants. If you would like to determine if your restaurant, hotel, or creative arts business will qualify for a B2B grant, you can contact Andrea Schultz Winter (awinter@greaterfreeport.com) or Bill Clow (bclow@greaterfreeport.com) at the Partnership or call us at 815-233-1350. You can also visit our website at greaterfreeport.com/B2B for the detailed criteria for each grant. In addition, DCEO is hosting some statewide information kickoff sessions where you can get an overview of the programs. We would then be available to answer any questions. The webinars are Thursday, March 30 at 10 am and Thursday, April 6 at 2 pm. Afterwards we will be glad to address any questions you have or help you with the application.
It is important to recognize that in this round of B2B grants, if you meet the criteria, you will get some funds. Our goal at the Greater Freeport Partnership is to see as many qualifying businesses as possible in Freeport and Stephenson County receive funds from this round of B2B grants. As Community Navigators, it is our job to help you identify if your business qualifies for the grant and help you file the necessary paperwork. We will be trying to reach as many qualifying businesses as possible but please don't hesitate to reach out to us too!
Bill Clow is the Business Engagement Director for the Greater Freeport Partnership. He can be reached at bclow@greaterfreeport.com or 815-233-1353.