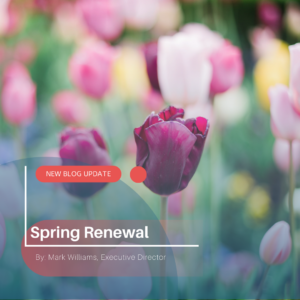 Spring is one of my favorite seasons. The budding of the trees bringing different hues of green, the songs of birds, the crack of the bats and the pop of the gloves, the smell of fresh cut grass and outside grills, and the planting of seeds, all leave me with a sense of renewal and revitalization. Spring can also be a time for community revitalization. As the winter ends and the weather becomes more favorable, communities often come alive with new energy and opportunities for growth. At the Partnership, staff are geared up and ready to serve you, fueled with the same energy after a very productive first quarter.
Spring is a perfect time for community clean-ups, where residents come together to clean and beautify their neighborhoods. This can involve picking up litter, planting flowers, and tidying up public spaces. Community clean-ups not only improve the physical appearance of the community but also foster a sense of pride and ownership among community members, revitalizing their sense of belonging and commitment to their neighborhood. The Partnership is hosting a clean-up week this week April 9-16. Click here for more information.
Spring can also be a time for economic revitalization in communities that rely on seasonal businesses, such as tourism, agriculture, outdoor recreation, home improvement, landscaping and lawncare. As the weather improves, these businesses may see an uptick in activity, which can boost the local economy, create jobs, and support community development. Economic revitalization can lead to increased prosperity, improved infrastructure, and enhanced services in the community, contributing to overall community revitalization.  The Partnership is co-hosting the Stephenson County Home Show and will be held this Saturday, April 15 at the Stephenson County Fairgrounds.
Partnership events provide opportunities for community members to interact, connect, and engage in positive activities, revitalizing community spirit and fostering a sense of togetherness. Three of the Partnership's annual community
events are happening this spring: Pretzel Fest held on Saturday, April 22, Pretzel City Wine Fest hold on Saturday, May 20, and Stephenson County Restaurant Week April 21-30 (Link to come).
With the arrival of warmer weather, people tend to spend more time outdoors, engaging in various activities such as gardening, hiking, biking, and picnicking. These outdoor activities can foster a sense of community by bringing people together, encouraging social interaction, and promoting a healthier lifestyle. Parks, community gardens, and recreational areas can be revitalized during spring, providing spaces for community members to gather, connect, and rejuvenate. The Partnership actively promotes our outdoor activities as one of our main tourist attractions with our "Be A Trailblazer" campaign. This campaign uses digital and outdoor advertising to attract visitors from over 50 miles to come to Freeport & Stephenson County.
After a long winter, the arrival of spring can bring a sense of renewal and rejuvenation to individuals' mental and emotional well-being. The increased sunlight, blooming flowers, and warmer temperatures have a positive impact on people's mood and mental health, which contributes to a revitalized community. When community members are mentally and emotionally well, they are more likely to be engaged, active, and supportive of their community, leading to a revitalized and vibrant community environment. The Partnership, through our Main Street Placemaking efforts, is sponsoring and implementing downtown plantings this year. To make this a reality for 2023, funds are needed for downtown planting and watering through the summer months. Sponsorships levels of $100, $200 and $500 are available. Sponsors will be recognized on our website, social media posts, at summer events, and in downtown signage. Click here for sponsorship information.
In conclusion, spring renewal can indeed be a time for community revitalization as it brings opportunities for outdoor activities, community clean-ups, community events, economic revitalization, and improved mental and emotional well-being among community members. These factors can collectively contribute to a renewed sense of community spirit, engagement, and pride, leading to a revitalized and vibrant community environment. Please share this information with your employees, friends and neighbors and have them download our app for more information on all of these events on their Apple iTunes or Google Play Store by searching "Greater Freeport Partnership."