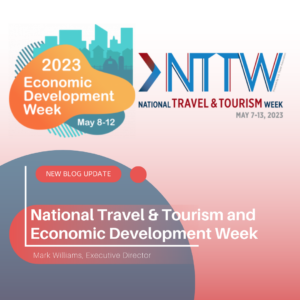 This week is National Economic Development Week which was created by the International Economic Development Council (IEDC), with the purpose of increasing awareness of our local programs that create jobs, advance career development opportunities, and improve our communities' quality of life.
This week is also National Travel & Tourism Week. This annual celebration highlights the contributions of the travel industry and the essential role that travel plays in driving economic growth and innovation.
IEDC defines Economic development as the intentional practice of improving a community's economic well-being and quality of life.  It includes a broad range of activities to attract, create, and retain jobs, and to foster a resilient, pro-growth tax base and an inclusive economy.  The practice of economic development comprises of a collaborative effort involving industry, government, and myriad community stakeholders.
The Partnership's economic development efforts fall into many categories, but all are integrally tied together and need to work in tandem to make a thriving local economy.  Businesses need workers to operate, and the workforce wants to live in communities with beautifully designed places and a high quality of life. To grow our economy, existing businesses need to expand and develop sites, or redevelop buildings and new businesses need to start. Moving the needle on economic development requires continuous synchronized efforts in all our areas of focus: Business retention and expansion, business attraction, design and placemaking, site development, workforce development, tourism and events, entrepreneurial support, and quality of life.
While most regions have siloed tourism and economic development organizations, in Stephenson County we have one organization – the Greater Freeport Partnership – where we are aligned, efficient, and impactful.  In support of our efforts, both the City of Freeport and Stephenson County passed one proclamation, proclaiming May 7-13, 2023, as National Travel and Tourism & Economic Development Week in the City of Freeport and Stephenson County and recognizing the critical role the Greater Freeport Partnership plays in the sustainability and growth of our region.