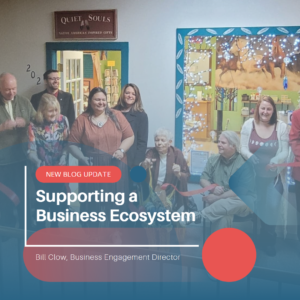 Last weekend, a community member shared with me that while at Pretzel Fest, she visited and shopped at several local stores. Store owners concurred that they had a busy day. 
A restauranteur indicated that patrons had been coming in requesting the dish they featured in our 2022 Stephenson County Restaurant Guide. Another restaurant owner was excited by the response to his promotional video we shared. 
A financial planner, a marketer and a not-for-profit manager have all talked about the valuable contacts and connections they have made at the Partnership's various networking and affinity groups such as Business After Hours and  Women's Enrichment Network.  
The programs and activities that we manage and promote are offered for multiple reasons – not least of which is supporting our local businesses. As Mark Williams, our executive director, indicated in his column last week, the work we do is multi-faceted and has a positive impact throughout our community and region. Much like our natural ecosystem that we recently celebrated on Earth Day, our business ecosystem has interconnections that are myriad, complicated and vital. 
That web of connections is one of the reasons that the Greater Freeport Partnership works so well. Rarely is an issue or an opportunity JUST a chamber opportunity or a tourism issue. Rather, tourism supports local businesses and encourages economic development. Attracting new businesses and supporting entrepreneurs strengthens the local economy, improving things for existing businesses as well as the new ones.  
Thank you to all of our members, Partnership members, volunteers and supporters who help to make this work possible! 
Bill Clow is the Business Engagement Director for the Greater Freeport Partnership. He can be reached at bclow@greaterfreeport.com or 815-233-1353.