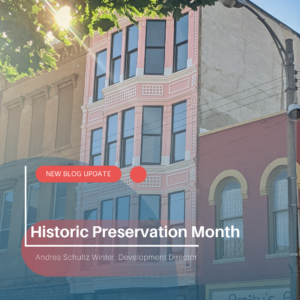 Preservation Month began as National Preservation Week in 1973. In 2005, the National Trust for Historic Preservation extended the celebration to the entire month of May and declared it Preservation Month to provide an even greater opportunity to celebrate the diverse and unique heritage of our country's cities and states. The National Trust for Historic Preservation (NTHP) is a privately funded, nonprofit organization that leads the movement of saving America's historic places because the Trust believes historic places tell the full American story; build stronger communities; and invests in preservation's future.
There are varying perspectives on historic preservation but, ultimately, old buildings are treasures and with sensitive, adaptive design can support new uses and help support a vibrant economy in our downtown core.
Downtown Freeport is fortunate to have a locally designated historic district which has been certified by the National Park Service and the Secretary of the Interior as meeting the National Register Criteria for listing of historic districts. Therefore, qualifying projects within the district could utilize historic tax credits for building redevelopment projects. These tax credits are an important tool in closing the financial gap of these, often complex, projects. If you own a downtown building and are interested in learning how this tool might benefit your project, please contact our office.
Additionally, in celebration of Freeport's historic building stock, I invite you to take advantage of warmer weather and view the Downtown Historic Walking Tour. The tour is designed to highlight buildings that have a long history within our community. Narratives explain the buildings' construction timeline, previous tenants and businesses that occupied the building, and draw attention to unique architectural features. The goal of the tour is to make pieces of Freeport's history that are represented in these beautiful buildings more accessible to all audiences. A better understanding of history gives one a greater connection and sense of 'place'.
The tour utilizes a free, online platform, theclio.com, for each building's post. Each tour stop will have a sign in the storefront window with the historic tour logo and QR code that will take the viewer directly to the listing on theclio.com. You can also access the tour by visiting theclio.com and search by city or the title of the tour. We continue to work with building owners to develop their building's historical narrative and timeline. You can view an example entry of 14 W. Stephenson.  Currently, we have three downtown addresses that have completed their entry on theclio.com with more entries will follow.
If you are interested in having your building listed on the tour, please fill out this form on our website or contact me directly.
Andrea Schultz Winter is the Development Director for the Greater Freeport Partnership and likes historical architecture so much she holds a master's degree in architecture with an emphasis in historic preservation from the University of Illinois. She can be reached at awinter@greaterfreeport.com or 815-233-1354.