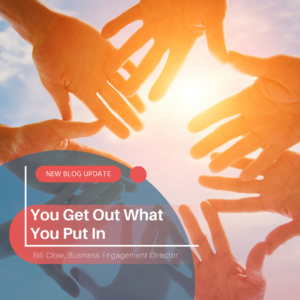 There is a phrase that I hear frequently from members, prospective members, and chamber executives around the state: "You get out of it what you put into it." The "it" refers to membership in an organization such as the Greater Freeport Partnership, and that the value of your membership increases the more involved and active you get in the organizations' activities.  
 It is absolutely true that if you get involved in our organization, or any other that you are affiliated with, there is a lot of value to be gained. Through networking events, volunteering, and serving on committees, members have the opportunity to build their networks, promote their businesses, and generally get a better understanding of the community and the resources within. Furthermore, by being involved, you have a greater opportunity to share your ideas and participate in the planning of services and events that are offered.  
 However, participating in events and on committees is not the only way to get value from the Greater Freeport Partnership. A lot of the work we do at the Partnership can benefit members that may be more passive in their involvement. In our economic development and workforce development efforts, we strive to improve the overall business environment. By developing conditions that attract new businesses and allow existing businesses to thrive and expand, we help all our members. Working on workforce development issues, we address issues that impact almost every business in the county.  
 The work we do to create and manage events and market the City of Freeport and Stephenson County helps bring visitors and, hopefully, new residents to the area. These efforts help increase the customer base for retailers and service businesses and grow the pool of potential employees for all businesses.  
 In summary, when our members DO get involved, they tell us they get much more in return for their membership. However, our work helps all our members – even those who can't make it to Business After Hours!