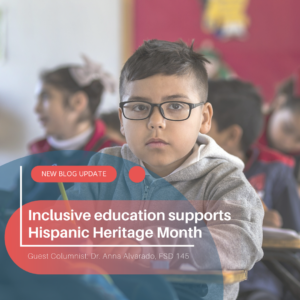 As summer fades and fall dawns upon us, September brings with it a tapestry of colors, cultures, and celebrations! This month is filled with significance and honors Hispanic Heritage Month, which pays tribute to our Hispanic community. During this month, we come together to celebrate vibrant cultures, rich histories, and invaluable contributions of the Hispanic culture.
This month isn't just a celebration; it's a profound opportunity for us to reflect, learn, and embrace the contributions of Hispanics to our country. Throughout this month, we also take time to recognize the achievements of Latinos and Latinas, both past and present, who have left an indelible mark on our world. Their stories serve as a testament to the transformative power of education, unwavering resilience, and the enduring spirit of our communities.
The mission of Freeport School District 145 calls us to create innovative, inclusive, and student-centered learning environments. The first steps toward realizing this mission is to instill a sense of pride in their cultural heritage and nurturing inclusive environments where they can thrive academically and culturally. Last school year, I recommended the creation of the Bilingual Education Department to the Board of Education. In early July, we welcomed Dr. Rocio del Castillo to lead this department as the Assistant Superintendent for Bilingual Education.
Dr. del Castillo's career began as a school psychologist in Peru, and since then, she has dedicated her professional life to advocating for educational equity and social justice. Her extensive and diverse experience spans over two decades, encompassing both public and private school systems in multiple roles such as dual language teacher, coach, coordinator, principal, director, and assistant superintendent. Before coming to our district, she was the Assistant Superintendent of Special Services in the Huntley School District. Prior to becoming Huntley's Assistant Superintendent of Special Services, she was their Director of Curriculum & Instruction. Dr. del Castillo was the Coordinator for Second Language Learning in West Chicago District 33 for two years before joining the Huntley School District.
The Freeport School District Bilingual Department takes pride in serving students from a myriad of cultural and linguistic backgrounds through various bilingual programs offered within our district. Over the past few months, our new department has achieved significant milestones. We hosted four evening sessions for our Spanish-speaking families, which proved highly successful and provided a valuable opportunity to connect with families and enhance our supports for them. Our overarching goal is to establish connections between families and community resources, address basic needs, and assess and evaluate academic placement.
We have also hired additional bilingual teachers and paraprofessionals to support our growing multilingual populations, planned our first Bilingual Parent Advisory Workshop, improved our curricular resources, strengthened our processes and procedures to comply with the State, and provided translation and interpretation opportunities for our families.
As our district welcomes an increasing number of bilingual families, it's important to address the question, "Who are our Multilingual Learners?" Currently, 17 languages are spoken by students in our district, with the most common ones being English, Spanish, Arabic, and Cantonese/Chinese. The majority of our new bilingual families are arriving from Central America. Many of our newly enrolled bilingual students are newcomers to the country, and several have experienced interrupted formal education.
The Freeport School District and its Bilingual Department remain steadfast in their commitment to providing inclusive and equitable learning environments for our multilingual learners. We place great value on honoring and celebrating languages and cultures. Through an additive and responsive pedagogy that views students as holistic learners, we aim to engage multilingual learners in rigorous curricula on a path toward biliteracy.
I am 145! ¡Yo soy 145!  عمري 145!  我145歲了!
Dr. Anna Alvarado is the superintendent at Freeport School District #145.