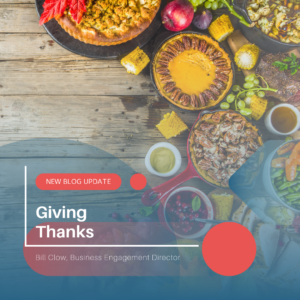 In this week of Thanksgiving, we thought it would be a good opportunity to reflect on some of the many things we have to be thankful for in Freeport and Stephenson County.  
New Business and Business Growth – We have celebrated much success with our business community indicated by 21 ribbon cuttings so far in 2022 and three more scheduled in the next few weeks. These events are a testament to the entrepreneurs who are opening new businesses and other existing businesses who are moving to new locations that accommodate their growth.  
Award-Winning Healthcare – FHN has received an "A" Hospital Safety Grade from The Leapfrog Group. This national distinction is recognition and celebration of the hospital's achievements in protecting hospital patients from preventable harm and errors. Read more about this award in "Did You Know?" found elsewhere in this newsletter. 
Local Leaders – We are thankful for all those who are willing to serve at all levels of government. We are also thankful that the elections are over for the time being! Also, sixty percent of voters voted to keep home rule in Freeport. This vote allows for local solutions to local issues.  
Greater Freeport Partnership Ambassadors – This year, the Greater Freeport Partnership Ambassadors have been celebrating their 50th year of service to the community. They have celebrated this anniversary year by doing service projects, starting a scholarship program and recognizing businesses throughout the area. We appreciate the impressive commitment of the individuals who wear the red blazers and the employers who allow them to do so! 
Our Government Partners – The City of Freeport and the Stephenson County Board are great partners in our work to make Freeport and Stephenson County a business-friendly community. We appreciate the dedication and creativity of all the leaders who make up those important government bodies. 
Our Members – We are a membership organization and cannot do all that we do without the support and participation of our members. Thank you to everyone who has joined the Greater Freeport Partnership, who has volunteered to help, and who has participated in a program or networking event. We are a stronger business community when we work together and support each other. 
From the entire team at the Greater Freeport Partnership, thank you for all you do to make this a great community to live, work and play! 
Bill Clow is the business engagement director of the Greater Freeport Partnership. He can be reached at 815-233-1354 or bclow@greaterfreeport.com.