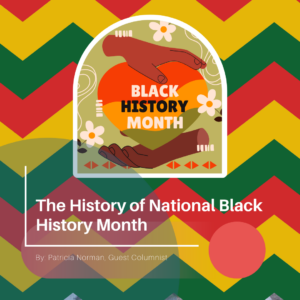 The Greater Freeport Partnership honors the commemoration of Black History Month with a special feature from Patricia Norman, Freeport resident and community educator.
February is National Black History Month, which celebrates the legacy of Black Americans and their contributions to our country. Learning about the accomplishments of Black Americans has typically been left up to families and communities of color. However, the history of our nation, should include the history of African Americans, women, and other marginalized people.
The father of Black History Month is Dr. Carter G. Woodson, who dedicated his life to educating African Americans about the achievements and contributions of their ancestors.  Leaders across the United States began issuing yearly proclamations recognizing "Negro History Week." However, Dr. Woodson never confined Negro History to just one week. By the late 1960s, thanks in part to the civil rights movement and a growing awareness of Black identity, on many Historically Black College and University (HBCU) campuses, "Negro History Week" evolved into Black History Month. "Teaching, promoting, researching, and preserving the African American experience is just as important today as it was when Dr. Woodson and others founded the Association for the Study of African American Life and History (ASALH) in 1915, according to ASALH President, Dr. W. Marvin Dulaney.
When Woodson established Negro History Week in 1926, he realized the importance of providing a theme in order to focus the attention of the general public. The intention has never been to dictate or limit the exploration of the Black experience, but to bring to the public's attention the important developments that merit emphasis.  The month of February was chosen because it encompasses the birthdays of Abraham Lincoln and Frederick Douglass – both of whom are great American symbols of freedom.
In 1976, President Gerald Ford officially recognized Black History Month and urged the public to "seize the opportunity to honor the too often neglected accomplishments of Black Americans in every area of endeavor throughout our history."  Locally, as well as throughout the country, Black History Month is a time to honor the contributions and legacy of African Americans across the history of our country. Such activists and civil rights pioneers include but are not limited to: Harriet Tubman, Sojourner Truth, Fredrick Douglas, Booker T. Washington, George Washington Carver, Dr. Martin Luther King Jr., Rosa Parks, Shirley Chisholm, Barack Obama, John Lewis, and Kamala Harris.
In 1986, the U.S. Congress, in a joint resolution of the House and Senate, designated the month of February as "National Black History Month." The resolution authorized and requested President Ronald Reagan to issue a proclamation in observance of National Black History Month and noted that "the foremost purpose of Black History Month is to make all Americans aware of this struggle for freedom and equal opportunity."
Black History is featured in television documentaries and in local and national museums. It is conveyed through literature, the visual arts, and music. The great lives and the culture of Black History can be seen in national park sites and in the preservation of historic homes, buildings, and even cemeteries.  Black History Month is a special tribute – a time of acknowledgement, of reflection, and inspiration – that comes to life in real and ongoing activities throughout the year, asserting both racial pride and the importance of race and the Black experience to the American narrative and heritage.
ASALH is responsible for annually selecting the theme for Black History Month. Since President Ford's declaration, every American president has designated February as Black History Month and has endorsed a specific theme.
2014:  Civil Rights in America
2015:  A Century of Black Life, History, and Culture
2016:  Hallowed Grounds:  Sites of African American Memories
2017:  The Crisis in Black Education
2018:  African Americans in Times of War
2019:  Black Migrations
2020:  African Americans and the Vote
2021:  The Black Family: Representation, Identity, and Diversity
2022:  Black Health and Wellness
The theme of Black History Month 2023 is "The Black Resistance."  African Americans have resisted historic and ongoing oppression, in all forms, especially the racial terrorism of lynching, racial persecution, and police killings since Black were brought to this country. By resisting, Black people have achieved triumphs and successes, as seen in the dismantling of Jim Crow segregation in the South, increased political representation at all levels of government, desegregation of educational institutions, and the passage of Civil Rights Act of 1964.  Black resistance strategies have served as a model for other social movements in this country, thus, the legacy and importance of these actions cannot be understated.
John Lewis advised, "Do not get lost in a sea of despair. Be hopeful, be optimistic. Our struggle is not the struggle of a day, a week, a month, or a year, it is the struggle of a lifetime. Never, ever be afraid to make some noise and get in good trouble, necessary trouble."
Today, Black History Month is not only celebrated in the United States of America, but it is also celebrated in Canada every February and the United Kingdom in October.
The Greater Freeport Partnership will continue to highlight community activities and celebrations to honor and promote Black History Month in February. Please see other features in this newsletter and social media posts throughout the month.