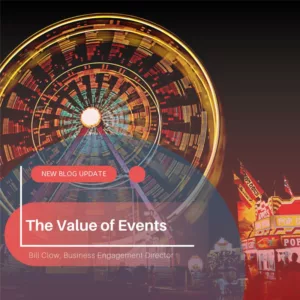 The Stephenson County Fair was last week. Despite the heat and storms, thousands of people came to the fairgrounds to see the animals, ride the carnival rides, visit vendors, eat corndogs and other great food, and watch the shows in the Community Tent and the grandstands. In early July, we had Tutty Baker Fest, German Valley Days, Music on Chicago, Fourth of July celebrations, and much more! In the next few weeks, the Greater Freeport Partnership will host the final Music on Chicago of the summer on August 4, Cruise Night on August 12, and our member's Golf Outing on August 24. Other groups are hosting the Stephenson County Airshow, Pearl City Boulevard Bash, Freeport Art Museum gallery openings, Eats & Beats, Paint the Port, and so much more.
I bring this up not only to promote the upcoming events, but to talk about the benefits of the community coming together for an event. While at the county fair last week, I saw people connecting and reconnecting after what appeared to be a long time, witnessed families and friends celebrating being out together, overheard conversations about politics, religion, farming, current events, and more! Grandparents spent time with grandkids, teens hung out with friends, and businesses introduced themselves to new potential customers. Visitors got the thrill of a carnival ride, riding a pony, feeding 300 parakeets all at once, or seeing a goat or a dairy cow up close, perhaps for the first time!
Events improve the quality of life in a community. They provide spaces of entertainment, enrichment, and connection. They attract visitors and tourists to an area and remind us as residents why we live in such a great place. In many cases, they boost the local economy, providing revenue and new customers to retail stores, services, and restaurants. Thank you to everyone involved in making our community a better place to live, work, and play!
Bill Clow is the Business Engagement Director at the Greater Freeport Partnership and can be reached at 815-233-1353 or bclow@greaterfreeport.com.