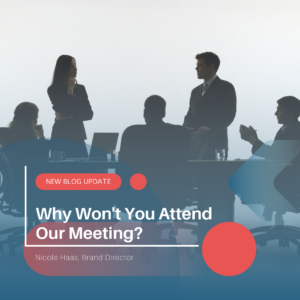 At the Partnership, we utilize a number of communication channels to reach our members, business owners, community members and stakeholders. But emails and phone calls fall short of the great discussions we can have in person. Group meetings are hosted to discuss membership offerings, marketing ideas, placemaking efforts, workforce issues, small business development and many other topics. Networking opportunities are offered to various niche' groups and at different times of the day to be accessible for everyone. However, with all of these options, the Partnership wants to see more people! 
Engagement from members, stakeholders, and the community is the most crucial element to reach our goals. The interaction we have with each individual and organization provides a new perspective and vantage point for our work.  
But, we get it. There is a lot going on.  And maybe some of these points are the reason why we don't see you.  
Organizations are busy and short-staffed. It's hard to encourage out-of-office obligations when there is so much to do in the office. In that case, please consider the Partnership's offer to post your job listings, enter in job fairs, and inclusion in our workforce initiatives.

 
It's nice to just go home after work! The Women's Enrichment Network (WEN) had a discussion in October regarding burnout and how we can all put so much effort into our work day that it leaves very little energy to put in extra effort outside of those responsibilities. However, a

July 2022 Forbes article

cites that increasing employee engagement is actually a "cure" for burnout leading to greater dedication and personalization for employees. Encourage them to join us!

 
This meeting should have been an email.  Whatever information has to be conveyed, can be done in a detailed, written form. But, unfortunately, not everyone reads detailed emails either! Plus, we all have watched amazing ideas come to life when great minds come together in the same room with the same goal. It can almost be like magic!

 
During covid, we got really good at digital communication and responding accordingly. Perhaps covid has made us all less-inclined to seek out in-person interactions.

 
OR … 
The content being shared doesn't strike you as interesting! We realize there are A LOT of meetings to attend and you have to be selective of what applies to you. In that case, please help us to understand the topics which you would find of value.

 
There are potentially a myriad of reasons why it is hard to attend meetings, but help us understand how we can best increase engagement from you and your organization. Your response and attendance in Partnership functions are crucial to the success of our work and the goals for our community. Please fill out the ONE question, anonymous survey so we can adapt our meeting structure to better serve you. 
Thank you and we hope to SEE you soon!