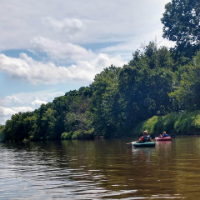 Labor Day weekend signals the quick approach of fall weather and waning days of summer. In Freeport in Stephenson County there is still much that calls for celebration regardless of season or sentiment. In the pages of this weekly digital events guide, you will find details and ideas to keep you busy with activities to suit all interests and ages.
Especially this week, Art in the Park returns to Krape Park displaying beautiful art from vendors as well as interactive opportunities to participate as a maker. Grab your Pretzel City Brewfest tickets at a discount and check out new merchandise at PreBrew 2 at Zealous Art Studio and Tattoo. Celebrate the many flavors, varieties and uses for our favorite burger side slab at PickleFest at Rafters Restaurant in Lena. Plus, so many other opportunities to listen to live music, dine with friends or try a new hobby.
Beyond just events, Labor Day weekend presents opportunities to enjoy beautiful weather in some of the most picturesque spots in Illinois. Lake Le-Aqua-Na State Park reopened on September 1 to the public and welcomes campers, hikers, and equestrian riders. The lake itself has not refilled enough for fishing, but check out the improvements that have been made to the grounds of the 715-acre park in the meantime.
Friends of the Pecatonica River Foundation have been hard at work building a new canoe/kayak launch and floating dock at the Wes Block Trailhead on the west edge of Freeport to make "Illinois' Friendliest Paddle" even more so! Experience the beauty and sounds of the changing seasons from your floating vessel with landings in Orangeville, McConnell, Damascus, Tutty's Crossing and Junior's Place.
Regardless of temperature or activity, Labor Day weekend offers a holiday in observation of all of the work each of us contributes to our careers, projects and community. Take this day of honor and gratitude and enjoy the events and amenities of Freeport and Stephenson County or whatever else brings you joy.
All the best,
Nicole Haas
Brand Director