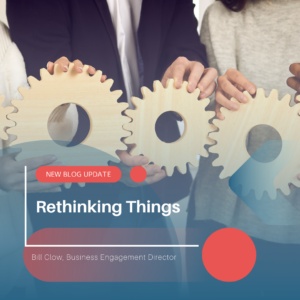 The last two-and-a-half years have caused businesses to do a lot of rethinking about how they do things. For some, the rethinking was due out of necessity. Their business or industry was irrevocably changed by the pandemic. For others, they had, perhaps for the first time, space and time to reflect on why they are in business.
As Ryan Estis wrote in a recent issue of his newsletter, Prepare for Impact, "when you interrupt a habit it becomes visible." One area that Estis focused on is how we address the concept of competition. Traditionally, a competitor is someone whom we want to beat, and a threat to our company's success. However, in rethinking how the business climate has changed, perhaps we should look at and respond to competition differently. Estis decided he "wanted to move forward and work in collaboration – and community." He calls this "coopetition."
As Mark Williams, Executive Director of the Greater Freeport Partnership, points out, people make purchasing decisions regionally. Visitors to Cheese Days in Monroe filled hotel rooms in Freeport. The Northwest Illinois Ale Trail promotion currently running in conjunction with Visit Galena is a huge success because we are promoting a group of breweries as a collective unit for visitation. All seven breweries benefit because their competitors were also a part of the promotion.
A recent visit with Thedford Jackson, the college and career coach for Freeport High School, he highlighted an opportunity to rethink how we are doing things. As the school district works to reintroduce the "academies" of Freeport High School, they are looking for businesses to collaborate and partner with them. This starts with a career and job fair hosted by the high school on November 22 but also includes opportunities for businesses to talk with students and staff about careers available right here in Stephenson County. Almost all businesses are having some degree of staffing challenges, and this is yet another opportunity to rethink our approach to our own business and competition for labor. The business community and the educational system must work together to encourage young people to pursue local careers. For more information on the career Academies and how your business can get involved, email Thedford Jackson at thedford.jackson@fsd145.org.