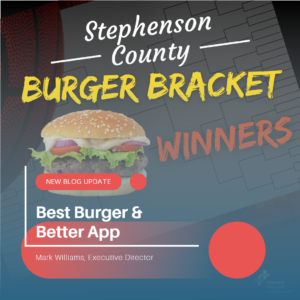 I don't know about you, but I have a bit of a Burger Bracket-belly now – at least that's what I'll blame it on.  Congratulations to Mort's Bar & Grill for being voted "Best Burger" in the Stephenson County Burger Bracket Challenge after the voting closed at midnight December 12.  Route 73 Brew & Chew took second place and The Rafters Restaurant placed third overall.  There were 12 restaurants that entered the competition that ran for just over 30 days. Doing the math for each bracket it was 21 burgers in 30 days.  Of course, throwing in a Thanksgiving feast for a brief intermission helped in achieving the Burger Bracket-belly.  All jokes aside, a big thank you to all the participating restaurants, patrons, and voters; you are what makes this fun competition successful.
The votes were submitted and tallied through the Greater Freeport Partnership mobile app.  There were over 200 downloads of the Partnership app during the Burger Bracket competition.  This is a secondary benefit to the competition as the mobile app provides the user access to information on all our events, a directory of member businesses, things to do in Stephenson County, and business resources.  As a member business, we encourage you to help market the app to your customers so they have easy access to information, including your website or social marketing platform.  In addition, the use of the mobile app is another way of encouraging local shopping, especially during the holiday season.  Please keep in mind, the mobile app is evolving and new features will soon be available.  Our hope is to continuously improve how the user interfaces with you, the business, and the Partnership.  If you have recommendations for improvements, please let us know.
In the meantime, we hope you are having a joyous holiday season!
Mark Williams is the Executive Director for the Greater Freeport Partnership. He can be reached at mwilliams@greaterfreeport.com or 815-233-1356.