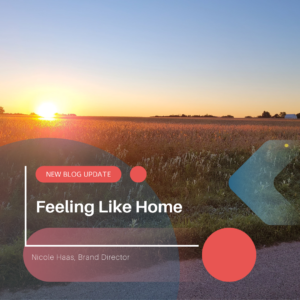 I pulled over on my way to work last week to take a photo of the most beautiful sunrise over fall fields. Of course, the picture didn't do justice to the actual view, but it will serve as a reminder to me in the future. Photos are our attempt to remember the things that are special in our lives so we can see them again. We do the same thing when we read important passages or details and highlight or underline the text so we can come back to them later. We go to great lengths to make sure that we won't forget the things that matter to us.  
Then why is it that we don't need to lock in ways to remember a feeling? When we think about a vacation spot, a favorite person or meal from our childhood it invokes a feeling without our need to refer to a photo or underline. Feelings are immediate reactions and don't need help to be recalled.  
When someone says the name of your hometown or workplace, what feelings come to your mind? Are you filled with pride, love, and possibility? In your mind, say the word right now and see how it feels. 
When visitors, prospective residents and business owners come to Freeport and Stephenson County for the first time, they are a blank slate. They may have heard a few things or researched online, but they have never had an experience here that shapes their first-hand perception. Once that person comes to our area, we are responsible for their first impression. And their feelings will be the result of the experiences they have here.  
There are so many senses that go into creating a feeling. We can see the care given to public spaces; smiles of the people who help at gas stations, restaurants, and businesses. We hear the interest people have in each other and the sounds of nature or notes of traffic and commerce. There are even studies to show that the weather on a given day when a visitor comes to an area is a determining factor of their perspective for future visits.  
We can't control the weather on the day people arrive to our area, but we can control many other factors. The Partnership understands the scope of creating a welcoming feeling through placemaking efforts, ambassador programs, and a positive outlook by residents and businesses. But this is work that must be shared by all. If we want the best for our region, we need to take ownership and work to create positive feelings for those around us.  
The fall sunrise photo I took may be my way of saving a beautiful moment, but it also creates a feeling of pride for the amazing place we all get to call home. 
Nicole Haas, MIOP is the Brand Director at the Partnership. She can be reached at 815-801-3676 or nhaas@greaterfreeport.com.