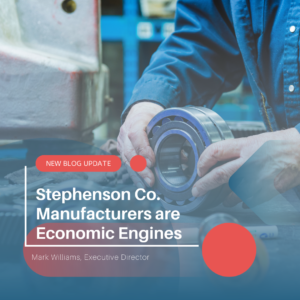 Roughly 16 percent of the resident workforce in Stephenson County work in the manufacturing sector (includes food production).* This equates to 3,388 residents in Stephenson County who are actively working and/or seeking work in manufacturing.  Based on a Partnership survey, there are 23 manufacturing companies of record in Stephenson County that provide over 3,500 jobs.   
With October being Manufacturing Month, and in appreciation of all of manufacturers in Stephenson County, I wanted to highlight just a few of our growing and unique manufacturers that are making "cool things." Click the links for more information and great videos on all the great things happening. 
Anchor Harvey is a data-driven, aluminum-forging company with a century-long legacy in precision manufacturing, engineering, and supply chain management in the US.  They make parts for virtually all industries with specific focus on electric vehicle, aerospace, medical, motorsports, automotive, archery, fire suppression, defense, heavy equipment and construction.  Anchor Harvey's Electric Vehicle (EV) Workgroup is delivering high-strength, lightweight components for the next generation of transportation.
Tri-Star Metals in Freeport is a producer and distributor of stainless steel and nickel alloy bars as well as mill producer of stainless steel and nickel-alloy wire in EPQ, spring temper, cold-heading quality, welding, and intermediate tempers.   
Danfoss Power Solutions is a world-class provider of mobile hydraulic and electrification products. In Freeport, Danfoss produces world-class, quality, hydrostatic components for their sister facilities. 
Inertia Machine is a manufacturer of portable aggregate crushing and screening equipment. Their crushing equipment features a horizontal-shaft impactor and is used in quarrying, contracting, recycling and demolition applications. 
Berner Food & Beverage in Stephenson County is a leading supplier of shelf-stable, dairy-based food and beverage products to large CPG companies, emerging beverage brands, and private label retailers nationwide. Their products are commonly seen and sold across the US. 
In Grown Farms is a true leader in the cannabis field. In Freeport, their 80,000 sq. ft cultivation facility crafts premium cannabis for the medical and recreational markets.
Savencia Cheese USA, formally known as Kolb-Lena, is a French-owned cheese production company specializes in crafting high-end specialties in the US under brands Alouette, Chavrie, Dorothy's and Smithfield to name a few.  which a very heart-warming story of our famous than the award-winning Dorothy Cheese 
Nuestro Queso in Kent is a world-class Hispanic cheese manufacturer.  Their products are crafted with the highest quality, and they offer the most extensive Hispanic cheese & cream assortment. Get to know their Mexican, Caribbean and Central American-style cheeses and creams. 
We are proud of all the manufacturing currently taking place in Stephenson County and each of the workers who bring these great products to consumers and producers around the globe. Stephenson County is a great contributor to the worldwide economic engine. 
* According to the Illinois Department of Employment Security Economic Information and Analysis 
Mark Williams is the Executive Director of the Partnership and can be reached at 815-233-1356 or mwilliams@greaterfreeport.com.