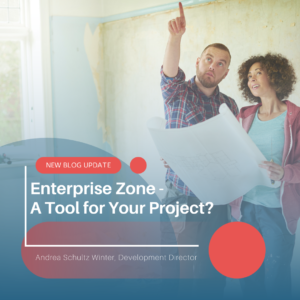 The cold winter months are always a great time to plan for the upcoming spring construction project. While you plan, something to consider is potential cost reduction tools, such as the Northwest Illinois Enterprise Zone. As economic development professionals, one way we support growth and development is by ensuring businesses know what cost reduction tools are available to them. Locally, the most frequently utilized tool is the enterprise zone. 
The Northwest Illinois Enterprise Zone is a state-authorized, locally designated geographical area that provides special incentives to encourage economic development, strengthen the business climate, and create jobs. Our regional zone includes areas of the City of Freeport, rural Stephenson and Jo Daviess Counties, the Village of Hanover and Lena, as well as the City of East Dubuque. To access enterprise zone benefits, the property must fall within the zone. Enterprise zone boundaries can be expanded if a project meets certain criteria, giving businesses flexibility to grow. Zone benefits include exemption from all sales tax on building materials for authorized new projects, waiver of certain building permits and fees, and a period of exemption from property tax increases resulting from expansion or new development. It is important to file your project's e-zone application prior to purchasing building materials as the sales tax cannot be reimbursed retroactively.  
In 2021, the Partnership assumed responsibility for administering the zone and last year worked with the state and local governments to expand the zone to assist in the redevelopment of The Meadows Shopping Center. This one project brought over $11 million in investment, generated approximately 100 jobs, and will bring approximately $12 million in new retail sales.  Last year the entire zone saw 10 projects. Of these 10 projects—seven were commercial, and three were residential.  
Planning an expansion or renovation? Contact our office to see if your property is within the enterprise zone and we will help you through the application process. More information can be found on our website . 
Andrea Schultz Winter is the Development Director for the Greater Freeport Partnership. She can be reached at awinter@greaterfreeport.com or 815-233-1354.