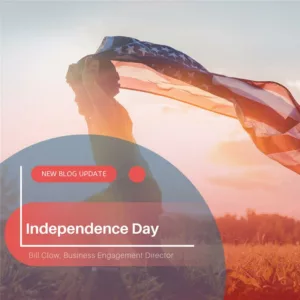 I enjoy reading history, especially history of the early days of the formation of the United States. As I have talked with small business owners and entrepreneurs, more than once I have been reminded of the struggles and challenges that our early founders faced as they fought to put their vision and dream into reality.
I think that the comparison is an apt reminder that the small businesses and entrepreneurs that surround us in Freeport and Stephenson County are pioneering our economy to a new vibrancy. This area has a long history of entrepreneurial enterprise and innovation. Small businesses have long done battle against larger, better-funded opponents with the goal of winning a toehold in the market and achieving independence in their own way!
As you celebrate Independence Day tomorrow, I hope you are surrounded by people who make you happy and doing something that brings you joy. Please be safe. And if you have a moment, reflect on our local, small businesses and the patriotic work they are doing!
___________________________
A quick note that after this week, Partnership News will start being distributed on Tuesdays. We have gotten feedback that suggests that recipients have more time to read the newsletter if it doesn't come on the first day of the week. Our schedule for getting content for the newsletter has not changed. Contact Bill Clow if you have any questions about this!
Bill Clow is the Business Engagement Director at the Greater Freeport Partnership and can be reached at 815-233-1353 or bclow@greaterfreeport.com.