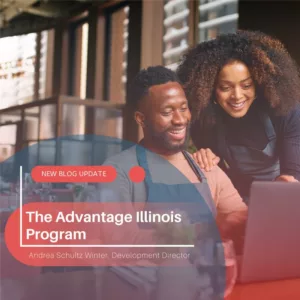 The Department of Commerce and Economic Opportunity (DCEO) has another program that serves new and expanding businesses. The Advantage Illinois – Small Business Credit Initiative (SSBCI) 2.0 Program will leverage $220 million in funding to support Illinois small businesses. DCEO works with outreach partners around the state to reach historically underrepresented populations who have faced significant barriers accessing capital. The U.S. Department of the Treasury's SSBCI guidance formally defines those groups as Socially and Economically Disadvantaged Individuals (SEDI) and Very Small Businesses, or businesses with fewer than 10 employees. Please see additional information in our Frequently Asked Questions (FAQs).
Advantage Illinois offers two programs that must result in job creation or retention at the project location. Participation Loan Program (PLP) – helps Illinois businesses get term loan financing at lower rates by purchasing a portion of the loan and lowering the risk for the lenders. Loan Guarantee Program (LGP) – provides a guarantee of partial principal repayment to the lender if a loan goes into default.
Businesses cannot directly apply for either program. DCEO partners on the Advantage Illinois loan programs with participating lenders. Businesses must apply for the program through their participating lender. A list of participating lenders can be found on DCEO's website (see interactive map at the bottom of the page). More information including the eligibility criteria for Illinois Business and list of approved funding purposes can be found on the DCEO website.
At the 2023 Illinois Economic Development Association conference, DCEO shared that 2022 was a record year in small business funding, that nearly 100 low-interest loans provided nearly double the loans provided in 2021 and the most loans since the launch of the Advantage Illinois Program.
The Partnership is working with DCEO on scheduling an informational webinar for our small business and lending partners. More information will be forthcoming.
Andrea Schultz Winter is the Development Director for the Greater Freeport Partnership. She can be reached at awinter@greaterfreeport.com or 815-233-1354.