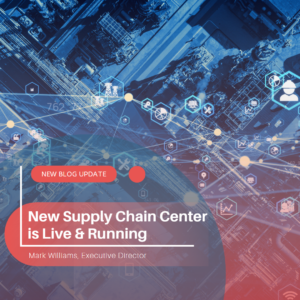 Exciting news!  On June 21, the Illinois Manufacturing Excellence Center (IMEC) and Illinois Manufacturers Association (IMA) launched their innovative Supply Chain Center, fostering meaningful partnerships between manufacturers and suppliers. Discover a new era of collaboration and resilience in Illinois manufacturing in a webinar being held Wednesday, June 28 at 11:30 am – 12:30 pm. Register for the webinar at https://www.imec.org/event/supplychaincenter/
The Supply Chain Center was funded by the CHIPS and Science Act. This groundbreaking initiative is set to revolutionize the way Illinois manufacturers operate with the unique hands-on approach of vetting suppliers, finding new opportunities, and providing knowledge, while also prioritizing domestic supply chain resilience. The Supply Chain Center is designed to be your ultimate resource hub for meeting deadlines, expanding your business, and staying competitive. Explore their events, webinars, and blogs to stay connected and take your manufacturing to new heights. Click the link below and discover the future of manufacturing! Supply Chain Portal – IMEC
Supported through the Buy America Act, manufacturers will be able to search and connect with top tier specialized suppliers across the state and country.1
The development of onshoring supply chains will be vastly improved as manufacturers will be able to find sourcing requests that match their production capabilities.
"We are thrilled to unveil our new supply chain solution, which we firmly believe will revolutionize the manufacturing industry in Illinois," said David Boulay, president of IMEC. "Through local sourcing and diversity initiatives, our solution empowers small manufacturers to access larger supply chains, fostering economic growth and creating new opportunities for local businesses. We are confident that this solution will contribute significantly to Illinois' economic development, creating jobs and boosting the state's prosperity." 2
Partnership staff including myself and Andrea Schultz Winter, met with IMEC staff on June 22 to learn how we can help market the Supply Chain Center locally to our manufacturers to promote local sourcing, enhance supply chain risk management, and foster agility.
Partnership members, including but not limited to, banks, accounting agencies and legal firms, are encouraged to share this information with clients and customers.  Spread the word, it's time to strengthen our manufacturers and their supply chains and help grow our locally sourced businesses.
1 – legislation that requires all iron, steel, manufactured products and construction materials used for American infrastructure projects to be produced in the United States.