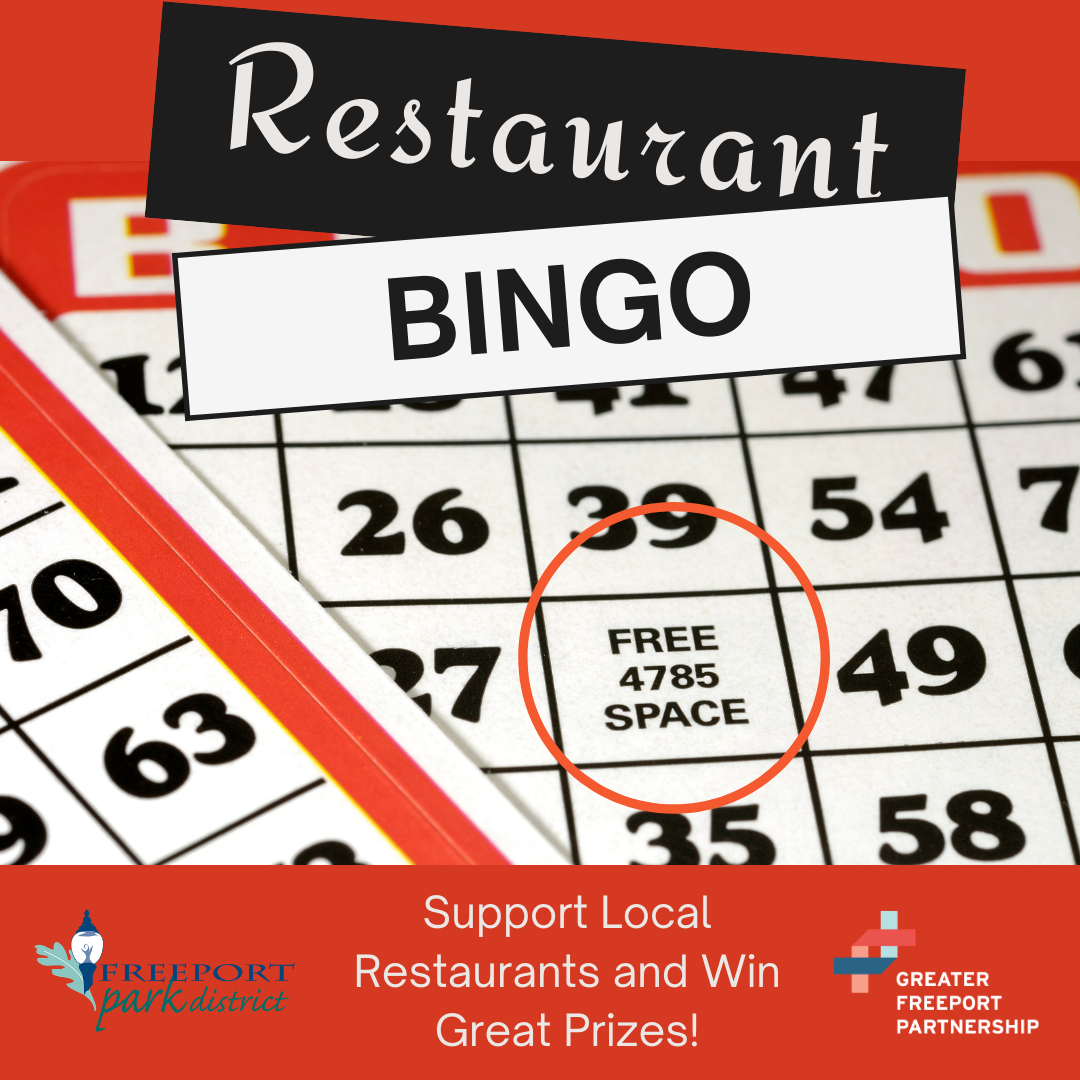 Print our download your Bingo card here!
The Greater Freeport Partnership and the Freeport Park District are excited to announce Restaurant Bingo to encourage local carryout and delivery dining! The game begins on November 12 and runs through December 30.
Participants can download their auto-generated Bingo Card and begin collecting receipts. Each card is different, so participants will want to keep the tab open on their phone to mark their squares or print it off. As purchases are made at each restaurant, keep the receipt as a verification of your purchase to be turned in with your completed Bingo card. Here are the rules of the program.
You are welcome to print out and play as many cards as you like.
Make a purchase from the restaurants listed on your Bingo card in any amount and save the receipt to be turned in with your completed Bingo card.
Completed eligible entries will be entered into a raffle for prizes including Freeport Park passes, Partnership Cash, and much more!
We have more than 25 local restaurants, so not every restaurant will appear on every card.
Cards must be accompanied by a legible photo of receipts from all of the establishments marked on your card.
Every card turned in with 5 entries anywhere on the card, gets 1 entry into the raffle.
Every card turned in with a completed row, column or diagonal row, gets an additional entry for each.
A "blackout" (all spaces filled on one card) will count for 6 entries.
Every eligible entry that includes a picture of you enjoying the food at home gets an extra entry into the raffle.
Send completed cards and photos to Business@greaterfreeport.com. Put Restaurant Raffle in the subject line and make sure your name and contact information are in the email. Paper printed cards with receipts attached can also be dropped in the mail slot at 27 W Stephenson St, Freeport.
Entries received by 5 pm on November 30th, will be drawn on December 1st.
Entries received by 5 pm on December 29th, will be drawn on December 30th.
One prize per person.
By submitting photos, you give us permission to publish that photo in media and social media without limitation. Questions should be directed to business@greaterfreeport.com.
Thank you and happy dining!