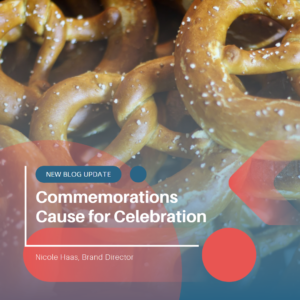 The Partnership often highlights many national, monthly, weekly, and daily commemorative occasions as they appear and how they might apply to us locally. In April, we celebrate Community Bank Month, Community College Month, Keep America Beautiful Month, and this week is National Volunteer Week. In the weeks to come, you will also notice we celebrate April 26th as National Pretzel Day with the upcoming Pretzel Fest on April 23rd.  Please come downtown on Saturday from 11 am – 4 pm to taste and see all that the "Pretzel City" has to offer in snacks and talent from various local groups. It will be the best festival the salty snack has ever seen with fun for all ages.  
Sometimes we create our own commemorative occasions, and the Partnership began to celebrate the last week in April as Stephenson County Restaurant Week with our inaugural event last year. Now in its second year, Restaurant Week encourages Stephenson County residents and visitors to dine out in great local establishments to try someplace new, or a new menu item at your favorite stop. More information will be circulated soon as we celebrate Stephenson County Restaurant Week April 22-May 1. 
And there is so much more to look forward to! The first week of May is celebrated as National Travel and Tourism Week. Many tourism agencies and destinations designate this week to kick off tourism activities and campaigns to start off what is considered the tourism season – May – September. Watch for more great information on how the Partnership will kick off this season in Freeport and Stephenson County! The second week of May commemorates Economic Development Week and we will highlight many economic development activities happening throughout the region and how they are significant to the ongoing work of our organization. May is also National Bike Month, Small Business Month, Motorcycle Awareness Month and so many more occasions we don't have the space to list here.  
Each of you in your respective organizations have commemorations that highlight the work that you do and the clients you serve. While you do great work 365 days a year, it is these commemorations that allow us to highlight our activities on a national or local scale. As you find each of these in your business or industry, please notify the Partnership and we are happy to celebrate these occasions with you! 
Nicole Haas is the Brand Director at the Greater Freeport Partnership and can be contacted at nhaas@greaterfreeport.com or 815-801-3676.