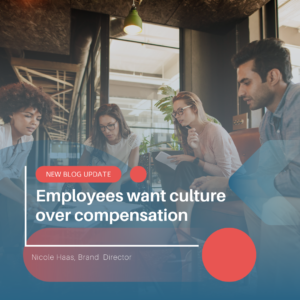 Happy Labor Day! This annual holiday commemorated in 1894 is the celebration of the social and economic achievements of American workers. However, in today's headlines, you usually hear the word "labor" used in phrases such as "labor shortage," "decreased labor pool," and "labor market." There is no headline needed to prove that workforce shortages are an issue being faced by employers locally and across the country.  
Similar to the description of the real estate scene being a "seller's market," the current trends could also be described as an "employee's market." With the ball placed firmly in the employee or applicant's court, what are employers doing to entice people to want to work for them? I recently completed an academic study on recruitment messaging strategies to identify what recruitment messages received the most applicants. For a little context, the study evaluated recruitment messages from 89 manufacturers located in northwest Illinois that were hiring in December 2021.  
Messaging Type

 

Number of Messages

 

Number of Applicants

 

Applicants per message

 

Culture

 

26

 

380

 

14.6

 

Compensation

 

27

 

300

 

11

 

Company-Focused

 

69

 

594

 

8.6

 

Total

 

121

 

1274

 

 
Culture messages put an emphasis on holistic needs and included language that stressed the importance of social acceptance, lifelong achievement, personal goals, needs of customers, philanthropy and working for the greater good. For example, one message stated "When you join ABC Manufacturing, you become a member of a global team of thinkers, innovators and dreamers who make things that make the future."  
Messages that focused primarily on compensation are in direct response to a financial need and incorporated language specific to hourly wage, salary, hiring bonuses, healthcare, retirement and benefits packages. For example, "Come work with ABC Manufacturing! $1,000 sign-on bonus, potential to earn 10% more after first year, internal promotion potential, lucrative referral program." 
Sadly, the majority of messages didn't offer any persuasive messaging at all. They simply described the position, what skills were necessary, and a few sentences that focused on the company's history and the widgets they make – nothing that let applicants know what kind of company they would be working for. 
Takeaways from the study: 
Spend more time creati

ng

messaging

. Your recruitment message may be the first thing that an applicant reads about your company. Take the time to craft it well or ask for help!

 

Offering more compensation is a short-term fix. Continuing to offer more money and benefits is a never-ending cycle that no organization can win. If employees are working only for the money, they will leave the organization as soon as they find a job that offers them more.

 

Talk about the applicant not about the company! The only description of the company should include language about culture. 

 

Attraction to an inclusive culture is greater than compensation. 

 
Employees want to work for organizations who CARE ABOUT THEM! They want to feel like they are part of something that is greater than their day-to-day tasks. Employees want to BELONG to a peer group and organization who share similar values, goals and connection to the community. If an employee FEELS like they belong and are an integral part of the whole organization, they will endure hardships if needed, work smarter, be more creative, and protect the organization that cares for them. Who doesn't want an employee like that? 
This Labor Day, celebrate the achievements of your employees and what they have contributed to make your organization successful. With this constant culture established, the work of recruitment and retention becomes easier. 
For more information or references on any of the included material, please feel free to contact me. 
Nicole Haas, MIOP is the brand director at the Greater Freeport Partnership. She can be reached at 815-801-3676 or nhaas@greaterfreeport.com.