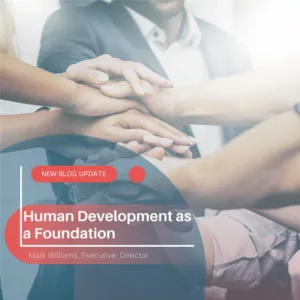 The Partnership understands a strong foundation must be created in our quality of life before all else. For economic development efforts to achieve a higher standard of living for the community, we need to have strong relationships with organizations that impact all stages of human development from birth to late adulthood. Businesses need workers to operate, and the workforce wants to live in communities with beautifully designed places and a high quality of life.  The following are brief summaries of some of the current undertakings of the Partnership and our strategic partners in human development and talent recruitment.   
HR and Industry Roundtables: The Greater Freeport Partnership has formed HR Roundtables through which we hope to establish an employer needs assessment for a workforce development strategy.  We have held two sessions so far this year, one on new laws coming into effect in 2023 and the other on childcare needs. Other roundtables are in the formation stage including industry-based HR Roundtables, and roundtable/focus groups on education and training providers.   The hope would be to bring the groups together for a workforce development summit in Stephenson County and develop short timeline actions that are locally based and connected regionally.  Bill Clow and Andrea Schultz Winter of the Partnership are heading up this effort.   
Youth Programs: The Partnership, along with The Workforce Connection and the Elevate-Stephenson Youth Program, held a Young Adults Job Fair at the Farm Bureau on May 25th.  (See WREX Coverage Here).  Elevate is designed to provide education and support services to youth between the ages of 14-24 who may have a barrier that is preventing them from earning their high school diploma or completing their high school equivalency requirements and finding employment and/or attending college.  Programs provide basic skills, GED instruction, tutoring, counseling, mentoring, career exploration, work experience (WEX) employment opportunities, and job placement assistance. The programs also provide follow-up mentoring for at least one year after the youth exit the program.  
Increasing Early Childhood Licensed Providers: Highland Community College received a Pathway Grant for Early Childhood Education.  A "navigator" was hired and works as a resource and recruiter and provides system support.  The program is targeting those who already work in the early childhood education industry and trying to help them become a licensed provider. Typically, HCC has 7-10 people in enrollment. In 2022-2023 there were 21 enrolled. Summer classes are also filled with 21 enrolled students. Many childcare providers are in the pipeline.  
Thomson Prison Collaboration: In 2016, Thomson prison reached out to HCC expressing their interest in sending residents to HCC for career training. It is important to note the prison has two different sets of residents. There are those that are in the main facility (known for their violent crimes) and the others known as the "campers" who reside in a separate facility. Though the campers are also felons, they fall under the category of non-violent crimes and have additional privileges. Funding became available in 2018 and the college started a five-year contract in which they would annually serve 8-12 campers from the prison. Within the five-year contract (one year of students lost due to COVID), HCC has served four cohorts averaging nine participants each year. 
The program starts in June and runs until the end of September. The members show up daily from 9 am-2 pm. Within their time at HCC, they complete several courses and earn 16 college credits for their Basic Welding Certificate that would allow them to easily enter the workforce as an entry-level welder. During the four cohort groups HCC served, only two members were lost due to extenuating circumstances.  All other participants successfully completed the welding certificate. 
HCC has been approved for another five-year contract with the next cohort set to start 6-12-23. HCC is also in conversation with Thomson prison in hopes to add a CNC machining program on campus. HCC recently began discussion about how the college may be able to send faculty to their facility to provide educational courses so that the residents in the main facility can earn a full two-year associate degree. Note the prison is transitioning from high-level violent offenders to low and medium-level residents in the main facility.   
Talent Recruitment – Freeport/Stephenson County Come Home Campaign Launched in 2023: The Partnership launched its year-long talent recruitment marketing campaign, "Come Home," in early April. This campaign is targeted to alumni of Stephenson County schools who have traveled outside of the area to work but are looking to move back. The campaign interviews seven local residents who fit this role and explain in video interviews why they felt a move back to the area was best for their families and/or careers. The campaign launches videos on social media every two weeks and is following a pipeline strategy to engage those who show interest in moving back with information on real estate, job postings, community information and quality of life highlights.  Please see the following link to view the videos.  Nicole Haas and Andrea Schultz Winter of the Partnership lead this effort.  https://greaterfreeport.com/live/come-home-to-build-the-life-you-want/ 
These efforts by the Partnership as well as other collaborative initiatives are building the foundation for the human development and growth we all want to see in Freeport and Stephenson County. If you have interest in participating or learning more about any of these programs, please contact our office for details.