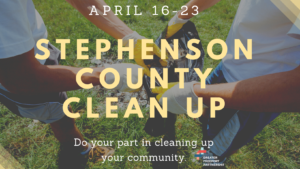 The spring weather is warming the ground and also exposing trash and litter that has been accumulating during the snowy winter months. The Greater Freeport Partnership's Beautification Committee is asking for your help to clean up our beautiful cities and countryside with a concentrated effort April 16-23. 
Gather your volunteer group, family and friends and sign-up for a section of town or roadway that you would like to work. Priority areas for clean-up have been suggested on the sign-up form. A sign-up link and more information can be found at  https://signup.com/go/neprRTR and also on Greater Freeport Partnership Facebook page. This is an opportunity for individuals, small groups, and families to spend time outdoors doing meaningful work to help the environment and our communities.  
Volunteers are asked to pick-up litter, pull weeds and any other light improvements they see would make a noticeable difference. The Partnership is offering clean-up kits (bags and gloves) for anyone needing them. Kits can be picked up Monday–Friday, 8 am to 5 pm, at the Partnership office, 27 W. Stephenson Street (corner of Stephenson and Van Buren). Volunteers may dispose of bags themselves or drop off full bags of trash at the office placing them along the building on the Van Buren Street side.
Please take precautions to ensure social distancing guidelines are followed during the cleanup. Volunteers are asked to wear a face-covering during the cleanup.
Questions regarding the Stephenson County Clean-up can call 815-233-1350 or email for more information. 
The Greater Freeport Partnership is a collaboration of business, community, visitor and economic development services with the mission to promote and grow Freeport and Stephenson County.