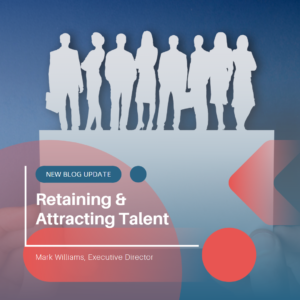 As the State of Illinois' indoor mask mandate is lifted and the Omicron variant becomes a memory and with warmer days around the corner, there is renewed hope to get back to normal.  Despite all the positive trends, millions of Americans continue to work at home; a trend that appears to have shifted from working from home out of necessity to working from home out of choice.  This trend reinforces the need for the Greater Freeport Partnership to bring together strategies that not only attract, expand and retain businesses but to also retain and attract remote workers (talent) in our community.
A recent report published by the Pew Research Center found that "among those who have a workplace outside of their home, 61 percent now say they are choosing not to go into their workplace, while 38 percent say they're working from home because their workplace is closed or unavailable to them. Earlier in the pandemic, just the opposite was true: 64 percent said they were working from home because their office was closed, and 36 percent said they were choosing to work from home." Locally we can find similar situations with respect to specific industries including insurance companies, financial and accounting institutions, corporate back office, IT, engineering, sales and telemarketing.
The recent announcement of Furst-McNess headquarters relocation by its new owners, Easy USA Holdings Inc., to a 12,000 square-foot office space in Cherry Valley and not all the way to Chicago where its sister company Pathway Intermediates is based, is because they want to retain the talent of Furst-McNess employees by offering workers an opportunity to commute the 38 miles, or work from home.  The company's aggressive growth plans require a closeness to Chicago and air transportation to recruit talent.
The Partnership is working on immediate strategies designed to improve our ability to retain and attract talent. Please stay tuned for more in-depth review of the following:
Design & Placemaking – A high quality of life means the community values good design, places an emphasis on quality of place, and offers a multitude of activities.  Good design and quality places that are inclusive encapsulate the principles of placemaking.  These attributes are attractive and weigh heavily in one's decision on where to locate. Placemaking is a tool to retain and recruit talent. Our efforts to obtain Main Street Accreditation help with the design and placemaking of the City of Freeport's downtown core.  We will also be working closely with the City of Freeport as it begins reconstruction of Chicago Avenue by assisting with communication to local businesses throughout the reconstruction phase.
Workforce Recruitment – Come Home Campaign – We know people who have previous ties with NWIL through school, friends, or family are more likely to move back to the region. We will be highlighting the stories of NWIL residents who have left and then decided to come home—to work, start a business, or raise a family through our Come Home Campaign.
Population Loss will Make it Difficult –The 2020 Census results show Stephenson County currently has 45,495 people which reflects a decrease of 2,216 people since 2010. The City of Freeport lost 1,665 residents bringing its population to 23,973 based on the 2020 Census.  Decreasing population will reduce the number of rooftops with disposable income to support our small businesses, including quality retail and entertainment venues that are important to attracting and retaining talent.
Falling below the population threshold of 25,000 will cause the City of Freeport to lose its "Home Rule" status.  Losing home rule status will reduce the means in which the City has local control in areas of zoning, building, public safety, and public health.  Losing home rule status will also impact the means in which the City can help support a quality of life needed to attract and retain talent and businesses.
Greater Freeport Partnership Leadership: The Partnership, our staff, and leadership are in the best position to develop the strategies and partnerships needed to retain and attract talent.  We have the leaders at the table, with representatives from the City of Freeport, Stephenson County, FSD 145 and Highland Community College, along with private business representing health care, workforce development services, financial services, engineering, legal, hospitality and entertainment.  With a few new seats recently filled, the Partnership will begin to release a series of leadership spotlights highlighting each of our Board of Directors.
Source:  COVID-19 Pandemic Continues To Reshape Work in America | Pew Research Center