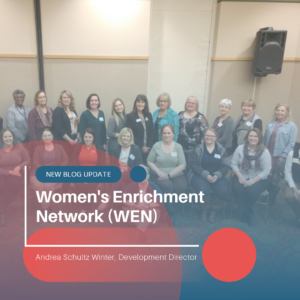 March is Women's History Month and in recognition I wanted to highlight a specific resource the Partnership provides for working women – the Women's Enrichment Network (WEN).  WEN is an informal leadership development group open to any woman working in Stephenson County. The group's mission is to connect, empower and inspire female leaders to serve one another and our community by providing personal and professional growth resources. We understand personal, professional and leadership development are interictally interwoven in our lives and providing enrichment and networking opportunities enhances the lives of the individual, as well as the organization or businesses where they work. 
Meetings are always held the second Wednesday of the month from 12-1 pm. Locations vary but typically we meet at the Freeport Public Library meeting rooms and via Zoom. Meeting formats vary month-to-month based on topic and availability of a speaker(s). Meetings are organized by a Steering Team with feedback from the group and suggestions of relevant, helpful topics to professional women. We understand everyone is busy and want to ensure our meeting hour is valuable. Previous meeting topics have included: 'Seasonal Affect Disorder & Mental Health Resources;' 'How to Network,' and 'Diversity, Equity & Inclusion Training'. Membership is $25 per year and goes towards paying speaker(s). Women are welcome to attend their first meeting for free without a commitment to join. 
We held our March meeting last week with Paulette William-Thomas, a WEN Steering Team member, who led a panel discussion, 'Providing Healing, Promoting Hope' in celebration of Women's History Month. Our panelists were Babette Jamison-Varner, CEO of the Housing Authority of the City of Freeport; Betsy Johnson, President & CEO of Solutions Bank; Kathryn Martinez, COO/Chief Nursing Officer at FHN; and, Wendy Schardt, Administrator of Tri-County Christian School. A huge thank you to our panelists for so candidly sharing your leadership stories and to Paulette for organizing and moderating a great discussion! A recording of the presentation can be found on our website: https://greaterfreeport.com/business/wen/.  
The Partnership would like to showcase Women Heroes, or SHE-ROES during March, please fill out this short form via this link to honor your SHERO. With their permission, these nominated women will be highlighted in Partnership social media posts as well as our website.  Interested in learning more about the group? More information can be found on our website: https://greaterfreeport.com/business/wen/. 
Andrea Schultz Winter is the Development Director for the Greater Freeport Partnership and co-facilitates the WEN group. She can be reached at awinter@greaterfreeport.com or 815-233-1354.